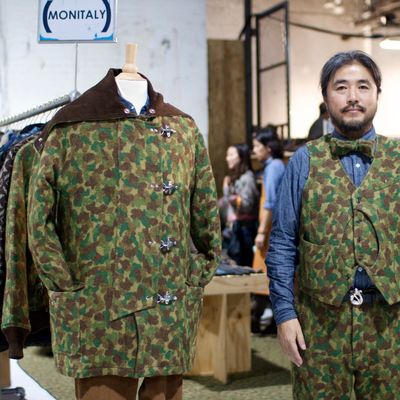 Yuki Matsuda, of Monitaly.
Photo: Courtesy of (capsule)
Following the fall menswear collections showed in Milan and Paris these past few weeks, the fashion trade fair (capsule) traveled from New York to Berlin and Paris. (capsule) showcases a wide selection of rising designers, focused primarily on urban fashion and modern, indie takes on classic men's tailoring. Click through our slideshow for shots of some of the best work on show at (capsule) New York, including Danish parkas (they know cold, wet weather, you see), British label Cherchbi's tweed hold-alls, and Wool and the Gang's knitwear.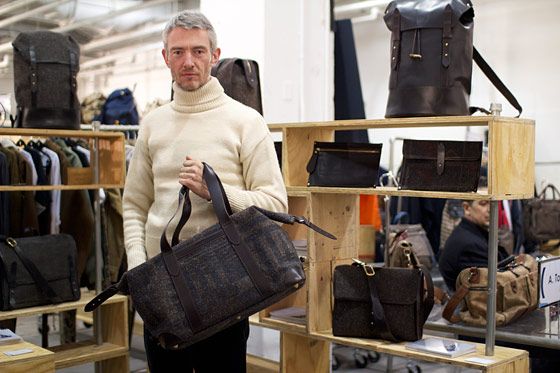 Adam Atkinson, Cherchbi, UK
"This season we collaborated with Tamasyn Gambell, a London-based print designer who has worked for Louis Vuitton and Yves Saint Laurent. This bag has Tamasyn's 'Two Colour Geometric' design screen-printed in brown and blue directly onto our own Herdwyck No. 10 tweed."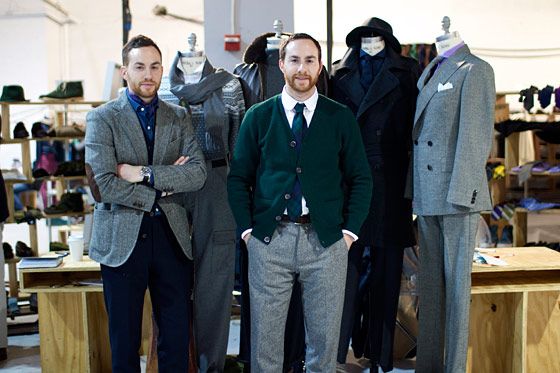 Ariel and Shimon Ovadia, designers, Ovadia & Sons, New York
"Part of our collection was inspired by a group of World War II fighter pilots, The Flying Tigers."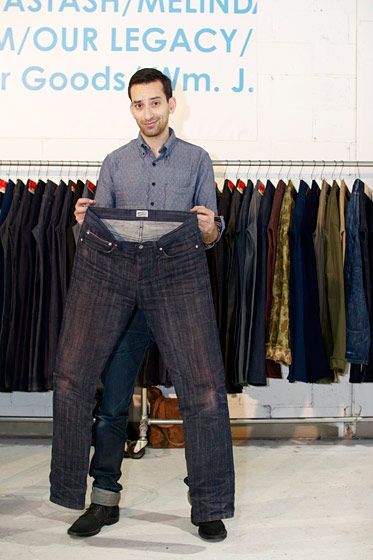 Brandon Svarc, designer, Naked & Famous Deni, USA
"These dark indigo jeans feature a warp yarn that has been treated in a red non-fade dye and then rope-dyed in indigo. The result is a dark indigo jean that will fade with red marks as you wear and wash them."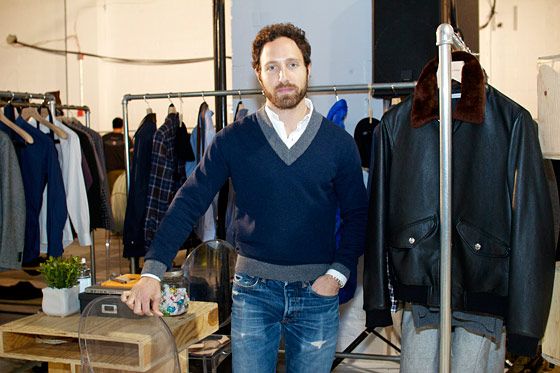 Ian Velardi, designer, Ian Velardi, USA
"A leather jacket is really an investment piece for a guy. It's something you want to have for a really long time, so it's important that it's really classic. This bomber style has been around forever, but I messed with some details to give it a fresh look. The leather is a buttery scotch grain, very luxe but still rugged. The fit is close to the body with trim arms and higher arm holes … perfect with jeans or dressed up; just beat it up and let it mold to your body."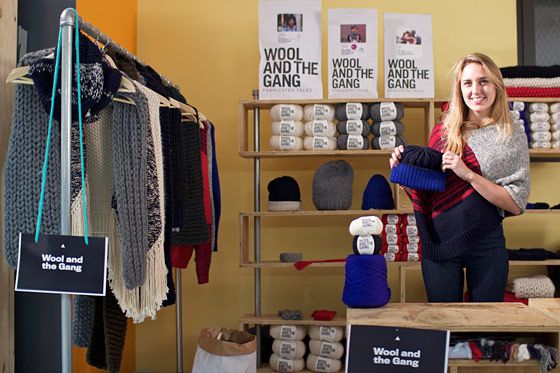 Jade Harwood, designer, Wool & The Gang
"Timeless pieces mixed with ski-chic!"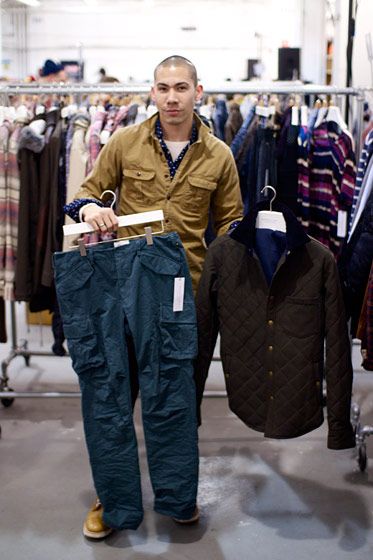 Micah Cohen, designer, Shades of Grey by Micah Cohen, USA
"Look for lots of colors in fall-winter 2012. Not necessarily bright colors, but interesting blues, yellows and greens … these cargo pants are one of my favorite items in my Anew collection. They're cut slim and in an understated teal that's a nice alternative to olive or khaki."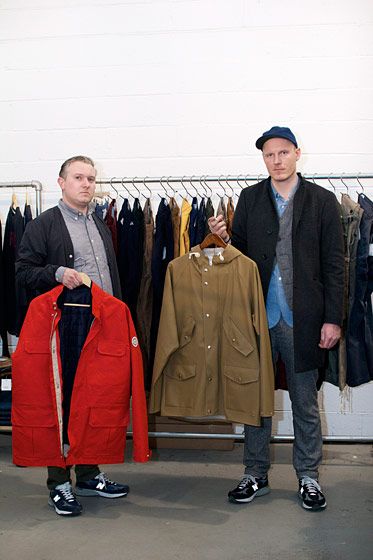 Norse Projects Denmark, designers Mikkel Groennebaek (L) and Mikkel Krath (R)
Mikkel G: "We live with cold, wet and windy weather most of the year, so knitwear, heavy jersey and outerwear play a big role for us. Here's a classic M65 inspired jacket that comes with a removable quilted inner bomber jacket, made of windproof ripstop nylon. The outer layer is made from an extremely heavy, tight knitted cotton made by one of Scotland's finest fabric suppliers. You can wear them together or separately." Mikkel K: "This is a 4-pocket rain parka, made from 100% PVC. It's 100% rain and windproof, all made in Europe."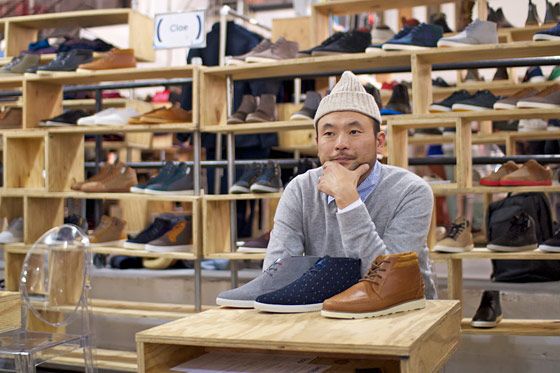 Sung Choi, designer, Clae footwear, USA
"For this season, I reinterpreted one of my styles, the Strayhorn, in polka dot wool. I also used waterproof suiting material in another style, and launched our first boot – the Romare hightop with a vibram outsole."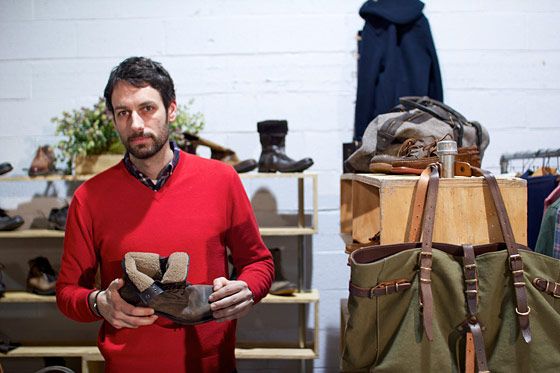 Tobias Dariz, designer, n.d.c. Made by Hand, Paris
"This winter lace-up boot is called 'Charles.' It's made of vegetal tanned soft Italian suede from Tuscany, shearling lining a great vintage finish, and great brushing details with an application of natural beeswax."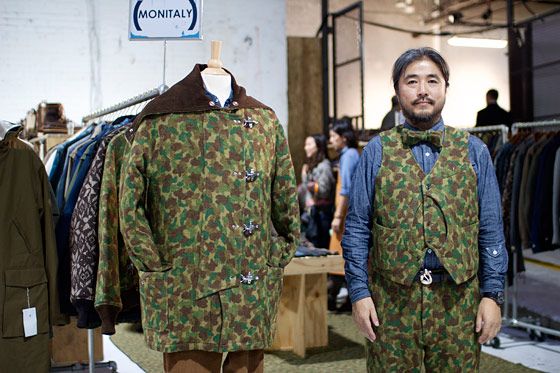 Yuki Matsuda, designer, Monitaly, USA
"This Jacquard wool camo fireman coat with Snorkel Hood is all made in USA… I designed the fabric first."