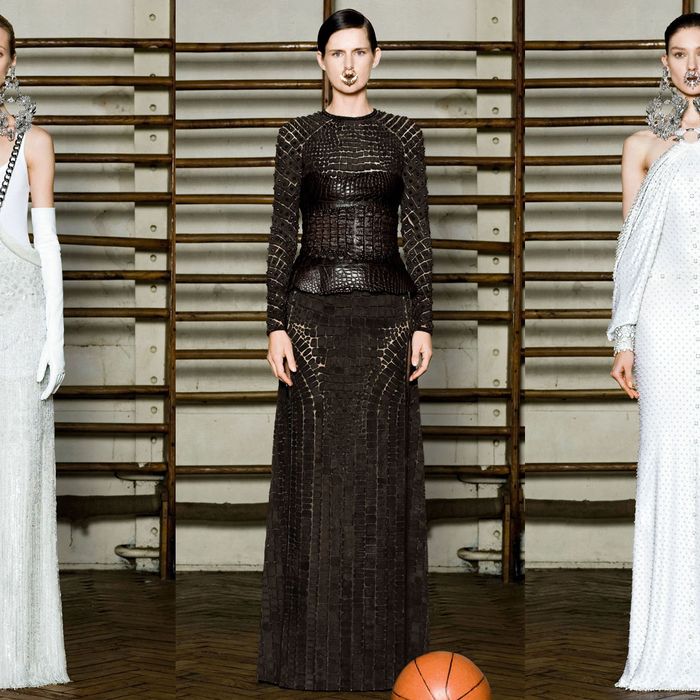 New Givenchy couture! No, we can't explain the basketball.
Rooney Mara will be one of the most exciting people to watch on the Oscars red carpet on February 26. Not only because she has things in common with Audrey Hepburn and a downright Gothic sense of style by Hollywood celebrity standards, but also because she's such a break for the eyes amid the rest of her peers, who look like they're dressing for beauty pageants and have, for weeks, juice-fasted their way into whatever constricting tight thing they decided to wear (Mara has to be thin for her role as the "anorexic-looking" Lisbeth Salander to shoot the Dragon Tattoo sequel — an important distinction from just wanting to be thin so tabloids don't call you fat). Plus, everyone aware of that white Givenchy couture dress she wore so brilliantly is already having fantasies about her wearing one of the new Givenchy couture looks to the ceremony.
After confirming that those things on the models' faces were nose rings, like Givenchy's menswear models had to wear, and not pacifiers, a titillating vision of Mara wearing that dress with the chain strap was my next order of contemplation. Cathy Horyn of the Times considered this, too:
I sometimes think that Rooney Mara (or Lisbeth Salander) might be having a greater influence on fashion than people will readily admit. After seeing Givenchy, I thought she would look great in one of the soft sheer blouses (shown with a white undershirt) and a long fringe-beaded skirt, or maybe a silver skirt held up by a metal chain strap. But, then, when I saw the Chanel show this morning, I thought Ms. Mara would look amazing in some of the short blue-beaded dresses with halter necklines. Anyhow, she'll have the pick of dresses for the Oscars.
There is also this look from the Givenchy show, which would probably look painfully cool on Mara but would also surely freak out Middle America, even without the earrings and nose ring that hurt to look at, whether or not they're clip-ons (unless models are piercing their noses for top designers now? Anything's possible in this business.). Anyway, she can only improve from her Golden Globes look, which was kind of a big shrug. Angelina Jolie wore pink and somehow managed to look more severe.