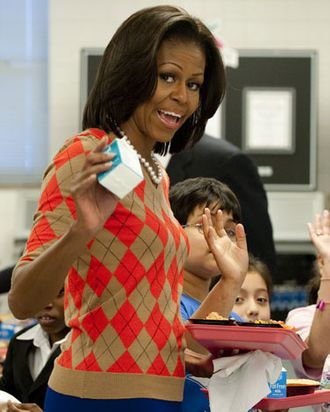 US First Lady Michelle Obama waves alongside school children while walking down the school lunchline after getting turkey tacos in the cafeteria at Parklawn Elementary School in Alexandria, Virginia, January 25, 2012. Obama visited the school with celebrity chef Rachael Ray and Agriculture Secretary Tom Vilsack to highlight the US Department of Agriculture's (USDA) new nutrition standards for school lunches, as schools undertake new efforts to provide healthy food for children.
Photo: SAUL LOEB/AFP
Michelle Obama wore a black dress with white and gray detailing to the National Supermarket in Tampa Bay, Florida, to promote healthy eating today. In other nutrition-themed events, yesterday she wore an argyle sweater to Parklawn Elementary School in Alexandria, Virginia, where she ate lunch with students to highlight new nutrition guidelines in school cafeterias. See these looks in our Michelle Obama Look Book.