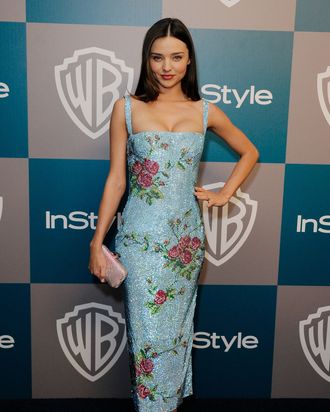 Miranda Kerr.
Photo: Kevork Djansezian/Getty Images
Miranda Kerr celebrated her new ambassadorship with Quantas airlines by talking publicly about her son, Flynn, because that was obviously the preferred line of questioning among tabloid reporters invited to cover the event held in honor of her new title. (Although I would very much like to know what Miranda has to say about airplanes and the great societal equalizer that is air travel.) Anyway, Flynn just turned 1 and had a birthday party:
"It was the first cake he had ever seen or tasted. It was a gluten-free cake and organic, of course," the model mama, 28, told PEOPLE during her debut as the Qantas airways ambassador on Thursday.

"He put his face in the cake. It was a healthy kick-start to his first birthday."
Kerr, a known proponent of organic food and juice, revealed they also "had a balloon man come because [Flynn] likes balloons. That was a lot of fun." It's unclear if he was the same balloon man who works on the Victoria's Secret show (the finale, that is, not inside the bras).