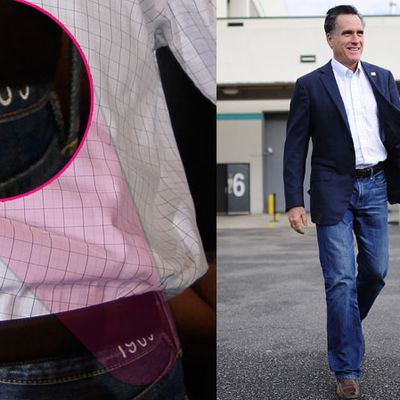 Mitt and his pants.
Photo: Joe Raedle/Getty Images, Emmanuel Dunand/AFP/Getty Images
Through his hair, Mitt Romney has tried to send a message to the American people that he's just an everyday guy, like you and Joe Bob the corn farmer next door, not some unfeeling rich Wall Street type who thinks $374,327.62 in speaker fees is "not very much" and only has to pay a 15 percent tax rate. Romney perhaps realized long ago that a few hairs out of place can't send that strong a message about his down-to-earthiness, which his wealth would seem to refute on principle. Having been accused of looking "like a president" by Time magazine in 2007, Romney set about to undo his polished demeanor, and announced his candidacy wearing an outfit that Esquire called at the time "the culmination of his de-invention."
For his announcement speech, Romney showed up in a baggy tattersall shirt. His sleeves were neither rolled to his elbows or buttoned at his wrist. Instead, they were stalled on his forearms, the sort of move a man makes when he goes to roll his sleeves but gets distracted by a sandwich. Again, there was no tie. And on his waist, he chose a hokey silver-tipped belt, one that's a bit too long, yet still manages to hold up his baggy, pleated, black pants.
Esquire also reported that Romney has been rumored to wear "Gap skinny jeans purchased by his wife." Speaking in South Carolina yesterday, Romney did indeed appear to be wearing Gap jeans, as evidenced by what looks like the brand's "1969" logo on his waistband. (If you watch a video of the pants on the Gap site, you can get a better view of what the logo looks like without a belt.) Now, a single pair of pants might not be able to do much in the way of making people forget about how much they resent wealth these days, and how much they might resent Romney's wealth in particular. But can the pants, which don't look nearly as Dad- (or Mom-)like as they could, send the right message to the American people? Charlotte Cowles and I discussed over instant message:
discoamz:  So, how cheap do you think Mitt Romney's (probable) Gap jeans make him look?
charmant:  I don't think he looks cheap, I think he looks casual.
charmant:  I mean, I feel like a lot of men, especially older, feel weird buying designer jeans.
discoamz:  His wife allegedly buys his jeans. In any case, I'm sure he's not SHOPPING.
charlotte:  Designer jeans are a relatively new thing
discoamz:  Right, I don't expect middle-aged men to have designer jeans. But Mitt Romney is in the Tom Ford jeans income bracket.
charmant:  Totally. But still, when it comes to jeans, I don't think that shopping at the Gap is an attempt to look cheap.
discoamz:  I think he's trying to look down-to-earth. He CAN buy Tom Ford jeans if he wants but he obviously won't wear them in public.
charmant:  For that generation, where else are they going to buy them?
discoamz:  Dillard's.
discoamz:  What kind of jeans does your dad wear? I think my dad wears Levi's.
charmant:  My dad does too. And he's very particular about them.
charmant:  He found his favorite kind at Costco once and bought like four pairs.
discoamz:  Haha. Now, that's an everyman!
charmant:  Hahahaha.
discoamz:  Char's dad for prezzie!