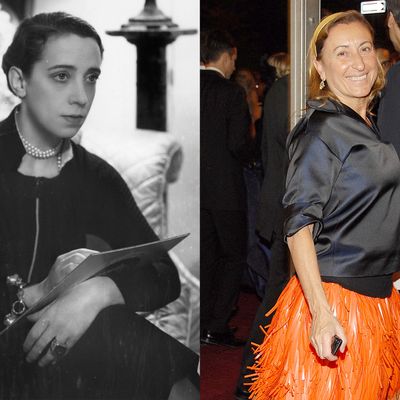 Elsa Schiaparelli in 1936 (left); Miuccia Prada.
Miuccia Prada is already having reservations about her upcoming Costume Institute exhibition, "Elsa Schiaparelli and Miuccia Prada on Fashion." She told WWD at her menswear show in Milan this weekend, "It's too formal; they are focused on similarities, comparing feather with feather, ethnic with ethnic, but they are not taking into consideration that we are talking about two different eras, and that [Schiaparelli and I] are total opposite." The exhibit is said to be configured around imagined "conversations" between Prada and Schiaparelli, who apparently have less in common than organizers may have hoped. "I told them, but they don't care," said Prada, who reportedly shrugged and looked "resigned rather than upset."
Update: Prada has issued the following statement regarding the WWD story:
Miuccia Prada is honored and proud to take part in this exhibition which is "an impossible conversation between Miuccia Prada and Elsa Schiapparelli". The comments printed are taken out of context and therefore misconstrued.

Mrs. Prada confirmed that she admires the total curatorial independence of the museum to the extent that they almost did not take into consideration her vision. 
Related: Confirmed: Next Year's Met Costume Institute Exhibit Will Be 'Elsa Schiaparelli and Miuccia Prada: On Fashion'
Earlier: See Prada's Complete Fall 2012 Menswear Collection