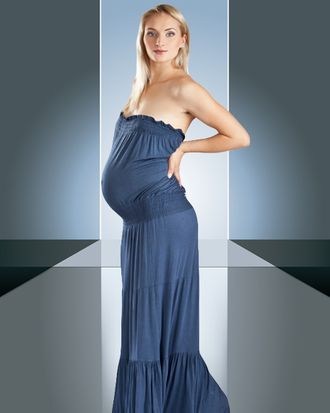 Our rendering of the mom show.
Photo: iStockphoto
Fashion Week venues come with many metaphorical elephants in the room — the things we all know are there but won't dare acknowledge. Like, botox, juice fasts, hunger, disgust with everyone else's air of inflated self-importance. But many attendees are also thinking about how many Capri Suns they have left in the fridge at home, fencing practice, diapers, or whether the housekeeper remembered to dust the solid-gold rocking horse today. Because Fashion Week is full of moms! Some of them go big on the weekend and instead of going home to their kids, bring their kids to the front row. But their mom-ness generally goes unacknowledged. This season, things will be different, WWD reports:
A multiplatform lifestyle brand, The Moms will partner with Mom-entum, a women's focused marketing channel within Big Fuel, a social media agency, and Getting Gorgeous to host the first annual "Strut: The Fashionable Mom Show," as part of Mercedes-Benz Fashion Week.
The show will take place at the library on Thursday, February 16, the last day of Fashion Week, and "sources" tell WWD, designers showing will include Shoshanna, Pea in the Pod, and Ramy Brook. The show will star real moms (which, to be fair, could include Jourdan Dunn), and livestream online for all the people who aren't connected enough to attend. Holly Pavlika, managing director of marketing firm Big Fuel, noted that aside from being very cute, there are real economic reasons to appeal to moms: "Moms are often a household's 'chief purchasing officer,' making or influencing about 85 percent of all purchases from retail to health care, automobiles, finances and more." She forgot: Celine bags, Prada shoes, other things moms deserve ...