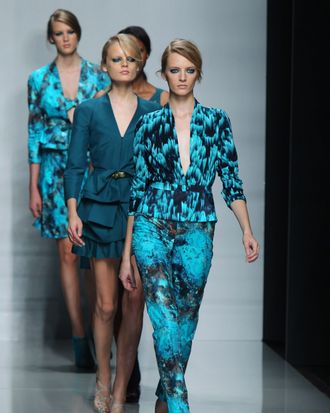 The last we'll ever see of Ungaro's spring collection.
Photo: Antonio de Moraes Barros Filho/WireImage
After losing Giles Deacon in December and new CEO Jeffry Aronsson just last month, Emanuel Ungaro appears to be on one shaky last leg. WWD reports that the ailing French fashion house told retailers that they're unable to deliver their spring-summer collection because of "internal reorganization" — an understatement to say the least. Meanwhile, they've canceled appointments for pre-fall, which were originally scheduled for next week, and announced that they won't present a fall 2012 collection. Barring a miracle, the end looks near.
Earlier: Ungaro's New CEO Has Reportedly Quit Already
Giles Deacon Out at Ungaro