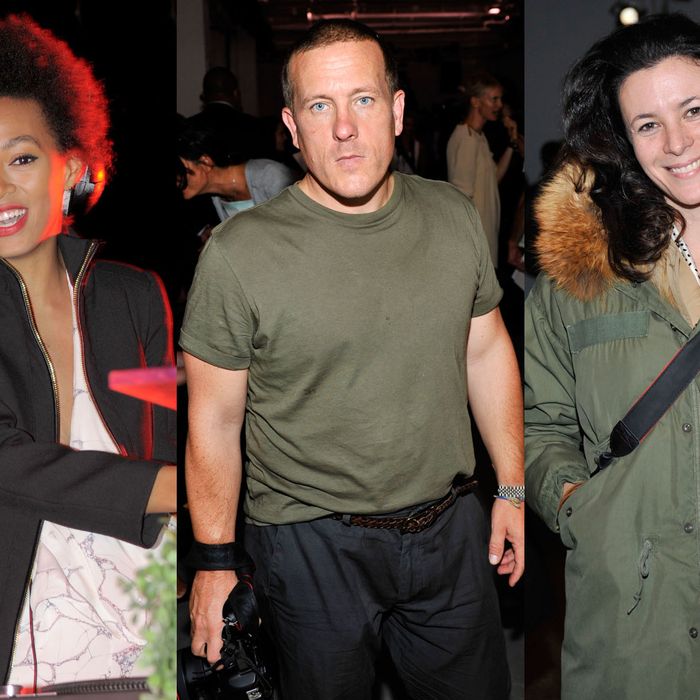 Solange Knowles, Scott Schuman, and Garance Dore.
Photo: PatrickMcMullan.com
Every now and then you probably wind up on a random e-mail list inviting you to RSVP to events with celebrities and pseudo-celebrities that are really cool when you're 21 and new to New York but quickly turn to spam once you age a year or two. The promoters at Epic Group send out lots of e-mails like this every week, including one to an event happening tonight at Tiffany headlined by Solange Knowles and street-style blogger couple Scott Schuman and Garance Dore. After one Epic promoter sent out invites to his list three days ago, soliciting RSVPs, he sent out another (epic, lowercase) e-mail about the party this afternoon announcing the cancellation of his list. It reads:
Due to an overwhelming response for the Tiffany Event tonight, they have pre-wristbanded their VIP's due to capacity and fire marshall issues. They will not be able to grant acces to my guests at Tiffany & Co. this evening.
Any models who rsvp'ed will be admitted to the event, but they cannot bring any guests unless thier guests are models too.
We apologise for your inconvenience.
This is actually a great way to handle the situation. Yes, it's crap for everyone who RSVP'd, and whose evening plans are in bedlam now that they can no longer go, but at least he just came out and said it: no uglies. Most places in New York don't give you the courtesy.
As a consolation prize, the e-mail adds, everyone who RSVP-ed for the Tiffany thing is now on the list to for Gabrielle Borromeo's "Red Carpet video release party" at the Empire Room, D.J.'d by Lady Starlight, and another event at the Griffin with music by something called "Dances With White Girls" and "Get Live" with special guest "Rakim."
Update: At 8:09 p.m. the sender of the email quoted above sent out another email with the subject "Correction: re: Tiffany Event," that reads:
This is a message retracting the statement from the prior email that only models will be admitted and that their guests had to be models too.

We have been informed that the best looking guests will be admitted wether they are models or not. Models can bring whoever they want to the event. We were worried that good people might be turned away at the door, but have been assured that the best looking people will have no problem.