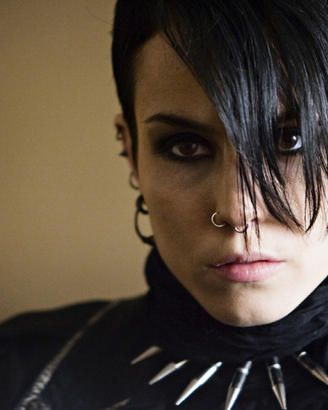 Noomi Rapace smiling for the camera as Lisbeth Salander.
Photo: The Girl with the Dragon Tattoo
Much has been made of Rooney Mara's appearance as the cheerless and heavily pierced Lisbeth Salander in The Girl With the Dragon Tattoo. (Vogue described her as an "androgynous cipher," while the Observer less charitably deemed her a "damaged ferret.") Before playing Salander, Mara told Vogue in October, her style was "much girlier … Now I literally roll out of bed and put on whatever is there."
In the January issue of British Vogue, Mara's predecessor — the Swedish actress Noomi Rapace, who played Salander in the original version of the movie — sounded stylistically closer to Salander. She appeared for her interview in layered Ann Demeulemeester and Acne, and said some essential Dragon Tattoo wardrobe elements, like the biker boots and jacket, were her own. "I was a punk rocker when I was a teenager," she told the magazine. "I wanted to look like Nancy Spungen. I had dyed blonde hair and lots of piercings."
She counted about eight more piercings she got for the movie, and said it wasn't exactly a smooth transition to post-Salander life. 
"On the last day of filming the trilogy," Rapace told British Vogue, "the producers came with champagne — we'd been working on the films for a year and a half so they wanted to celebrate. I went to the loo and started to vomit. It was so weird. It was like I was trying to get her out of me." 
Sounds like Rooney Mara may have a long road ahead of her.