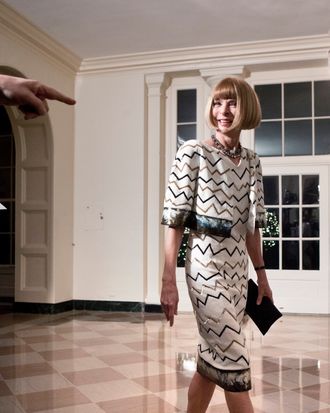 Anna Wintour at the White House.
Photo: Brendan Smialowski/Getty Images
Fashion folks have had a cozy relationship with the Obamas from the get-go, with Anna Wintour leading the charge (she's hosted the Obamas for fund-raising dinners at her West Village townhouse several times, and been invited to many a fancy White House function in turn). Now she's helped organize an initiative called Runway to Win, which will sell merchandise like T-shirts, tote bags, scarves, and bracelets to raise money for Obama's reelection campaign. (It's basically the same thing as 2008's Runway to Change.)
Designers who have already volunteered to make swag for the Obama campaign include many of those whose careers have profited from Michelle Obama wearing their clothes, like Rachel Roy, Jason Wu, and Narciso Rodriguez; also onboard are Marc Jacobs, Diane Von Furstenberg, rag & bone, Altuzarra, Alexander Wang, Tory Burch, and Tracy Reese. Notably absent is Donna Karan, whose parent company, LVMH, initially discouraged their brands from participating for fear of alienating Republican customers (Marc Jacobs apparently went ahead and made T-shirts for the initiative anyway). Merchandise will go on sale online at runwaytowin.com on Thursday, with all proceeds going to the Obama Victory Fund. 
Of course, no stylish initiative would be complete without a fancy party, so Anna Wintour will co-host a Runway to Win–themed event in February with Scarlett Johansson, who's hosted Democratic fund-raisers before. The event is currently being organized by Vogue's  Sylvana Ward Durrett, who also coordinates the Met Ball, so this will certainly be a big to-do.