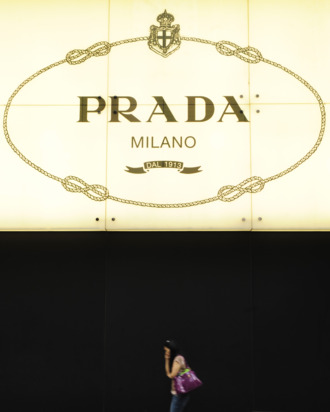 Pedestrians walk past a Prada shop in Hong Kong on June 12, 2011. Italian luxury fashion house Prada is set to raise as much as 2.6 billion USD after setting the price range for its highly anticipated offering in Hong Kong on June 24, a report said on June 6. The Milan-based company plans to sell 423.28 million shares at an indicative price range of HK$36.50-HK$48.0 (4.70-6.20 USD) each, Dow Jones Newswires reported, quoting an unnamed source familiar with the deal. AFP PHOTO / Antony DICKSON (Photo credit should read ANTONY DICKSON/AFP/Getty Images)
Milanese artist Francesco Vezzoli partnered with Rem Koolhaas's design group AMO and fashion house Prada to create a special pop-up museum. It opens in Paris next Tuesday, at the Palais d'Iéna, but only for a single day before it pops back down; showing in the museum are films featuring fashionable celebrities — like, of course, Lady Gaga — that play alongside sculptures Vezzoli describes as "interpretations of classical [forms] that make reference to contemporary divas." Let's hope for Mariah Carey meets Venus, emerging from a clam shell full of QVC goodies. 
Guests invited to a private opening dinner will be the first to see the setup, before the venue becomes a nightclub for the remainder of the evening. And people not considered interesting enough to be invited can watch the lucky folk who did make the guest list fist-pump awkwardly and sing along to lots of kitschy Europop because the party will be streamed online, at www.24hoursmuseum.com — not that such an idea is creepy in the least. It's only the following morning that general admission to the museum opens, and then of course only until 8:30 p.m. sharp, when the museum's 24 hours are up.