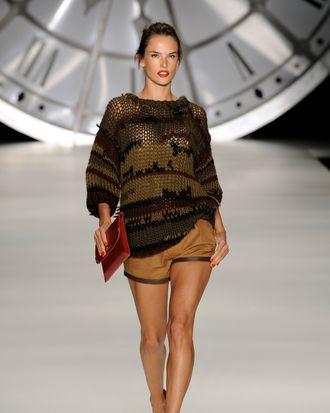 Alessandra Ambrosio.
Photo: Fernanda Calfat/Getty Images
As part of Sao Paolo's Fashion Week, Alessandra Ambrosio walked in the Colcci show yesterday. Five months pregnant, she wore two looks from Colcci's fall 2012 collection: a loose knit sweater paired with tan hot pants, and a gray minidress. (Obviously, because she's a supermodel, she looked great.) Ambrosio's catwalk cameo came thanks to her role as the face of Colcci, alongside Ashton Kutcher. However, while Kutcher walked in the brand's spring 2012 show last summer, he didn't make an appearance this time around.