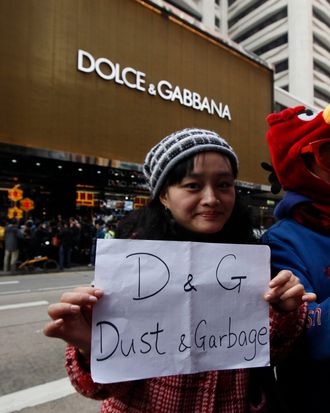 Protesters hold a placard outside a chain store of Dolce & Gabbana in Hong Kong Sunday, Jan. 8, 2012. Hundreds of Hong Kong protesters staged a protest outside an Italian luxury clothing chain store Dolce & Gabbana to demand an apology from the chain for allegedly preventing locals from taking photos of its storefront display. One of the security guards had earlier been reported as saying that only Mainland shoppers were allowed to take pictures of the store, even at the public road outside.
Photo: Kin Cheung/AP
Earlier this month, security staff at Dolce & Gabbana's Hong Kong boutique reportedly barred Hong Kong natives from taking photos of the store — while not enforcing similar rules on tourists or (wealthy) mainland Chinese residents. Protests ensued, and are still continuing outside the store, thanks to a determined Facebook campaign. Over the weekend, smaller groups braved bad weather to chant and stomp around; they also stuck posters to the store's windows, which they then photographed.
In addition to seeing the rule overturned, protesters are now adamant that Dolce & Gabbana apologize. "We have to protest for our freedom. If they haven't apologized we will still come here," one told WWD. The Equal Opportunities Commission in Hong Kong has written to the brand "expressing concern over the alleged differential treatment," but has yet t0 hear back. Indeed, Dolce's only response thus far has been a carefully worded statement denying any direct involvement in the store's racially tinged problems.
Related: Dolce & Gabbana Enrages Hong Kong Residents, Protests Ensue