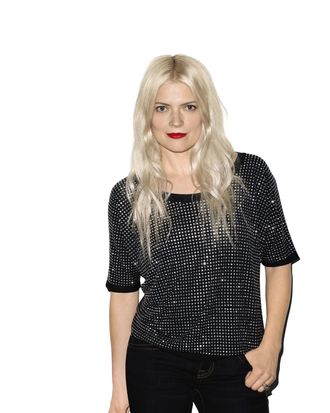 Kate Young for Macy's INC
Stylist Kate Young, whose clients include Michelle Williams, Natalie Portman, and Jason Wu, recently added a more public role to her résumé: editor-at-large for Macy's INC collection. The position, previously held by Anna Dello Russo, involves assembling looks for the brand's ad campaign, which will run in Vogue, InStyle and Cosmopolitan this spring. We spoke with Kate at her launch party at the Standard Hotel last night about her newest gig, plus award-season red carpets and New York Fashion Week.
Tell us about your gig with Macy's.
I styled the pictures – I had nothing to do with the design of the clothes. The clothes are all Macy's INC, and the shoes and the jewelry are INC, but I put them together in my way.
How did Macy's approach you for this job?
They called my agent and we did a meeting. I really like the creative team that they have — they're really nice people. They had done the Anna Dello Russo thing in the past and so I just went and had a meeting with them, and I guess they liked me. So that was that.
Is there anything about Macy's that made you want to work with them?
I feel like it's nice for me to do something where my work is recognized. But [this is] a more controlled setting. I don't really want to be a super public person —  I don't want a reality show. I'm not an actress and I don't think I have the kind of personality that could carry a show, [although] I really admire the people who can. I really liked that this project was about me being a stylist. This was about my work and just doing that as opposed to [being about] me.
This is a little more public than your other jobs.
That's true.
Is that appealing to you or a little weird?
Both! Look, I'm not going to pretend that I'm not ambitious. I'm really, really ambitious. I work really hard because I really want to be the best at what I do. And I think that part of [a stylist's] job has become about finding other ways. If you look at everybody who's a stylist, [they're] trying to figure out how to expand upon it, to find a way to make it bigger — make it more than just showing up and shooting or just picking the dresses. So, I think that this was appealing because, while it's about me and there are pictures of me and my name, it's also about me doing what I know, which was a less scary jump for me.
Before you were approached for this, what was the last thing you bought at Macy's?
I can tell you the last thing I bought in bulk at Macy's. I love this Prescriptives foundation and Prescriptives is discontinued, so I went to Macy's and bought every single bottle of Traceless [color] No. 2 with my best friend who's No. 1, and the two of us both have like fourteen of them in our fridges.
Do you shop for clothes at Macy's?
I went right before the meeting with them and the Giambattista Valli collection was there. I actually bought a bunch of that stuff; I love it. I love Giambattista Valli clothes — I think they're genius. I think they have that right blend of couture and femininity and color without it seeming un-cool. So I bought leopard tuxedo pants and a leopard jacket.
You're also dressing Natalie Portman and Michelle Williams for the Oscars. Do you have any plans for them yet?
Do you think I'm going to tell you? That's like asking what your Christmas present is. No, I'm working on it. I've been working on Natalie longer because she's presenting. Michelle was just nominated yesterday, so I'll figure it out this week.

Do you feel nervous or are you beyond that?
No! It's so much pressure.
What do you think about award-show dressing? Do you think it's getting more or less interesting?
I felt like at the Golden Globes a lot of people looked incredibly beautiful, hair and makeup and body-wise. The women looked gorgeous, like Reese Witherspoon and Salma Hayek — honestly they looked prettier than I've seen them look in a long time. I do think people are choosing things that are a little safe. Like, there's a lot of strapless mermaids, which you know America will love. If you wear a bright-colored strapless mermaid dress you'll be in the top ten on all the morning shows.
Do you think it's all about strategizing how to make the top ten?
I think it depends on your personality. The kind of woman who can carry a blockbuster film from middle America — yeah, she wants to be in the top ten, and she isn't about taking risks. The actresses are just people, you know? Everyone has her own personality. Can you imagine if Tilda Swinton wore a strapless mermaid gown? It would be hilarious and weird. Because we all know who she is — she's somebody who wears avant garde fashion and does edgy films and will never sell out. She'll never do a romantic comedy.
And you also have Fashion Week coming up — are you styling for anyone this year?
Jason Wu.
What is Fashion Week like for you?
You know, with styling shows it's a lot like talking about actresses — every designer has a different personality and works in a different way. Jason and I have worked together for over two years, so we know the rhythm and the pace. We're very familiar with each other and I know the routine. I'm not nervous, but I really care about that show. It's like a child. So it's not like a nervous energy, like, "How am I gonna get there on time and get all this work done?" It's more like I have a very deep anxiousness that we make it as good as possible.
What's your personal relationship like with Jason?
He's a total workaholic but also a really kind, funny, fun person, which is a rare combination. Like, you rarely meet people who are that intense about their work and who also have good friends and have a good time and are nice.

Do you have any other upcoming projects?
I have this and the Oscars and Jason. So, in March, I plan to take some days off!