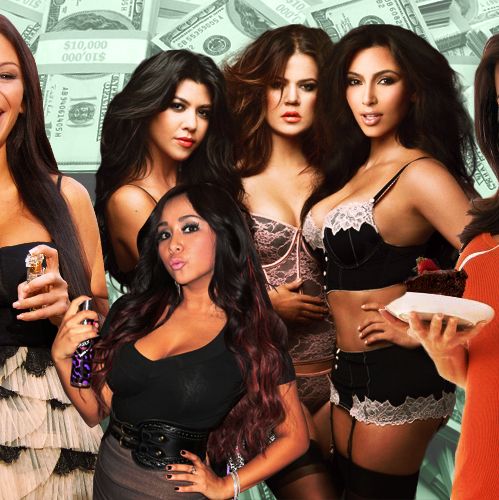 Photo: Suntzulynn for LE/Splash News, Alexander Tamargo/Getty Images, Macy's, Simon and Schuster
Snooki's fame seems to endure only for the sake of the world's unapologetic ridicule. We are constantly reminded that she is a less-than-attractive, yam-colored, drunken mess, scarily willing to publicly shame herself on international television. She (allegedly) unknowingly flashes her vagina at nightclubs, gets drunk and falls down, gets sober and falls down, yells like a feral animal, and cries when things don't go her way. Yet she has squirreled away more deals for her own fashion and beauty lines than most reality stars or other celebrities could ever dream of signing. She has slippers, sunglasses, perfume, and self-tanner, along with other clothing lines in legal dispute, which are sure to launch in some form or another eventually, whether or not Jersey Shore maintains its staggering, if dwindling, popularity.

Her product lines, along with those of her fellow cast members (JWOWW perfume, anyone?), have infiltrated the marketplace like a swarm of locusts. At first, it was just a bronzing lotion here or there, but those only signified the start of what was to come: an all-out, strangely orderly procession of beauty and fashion items swathed in catch-phrase-emblazoned, animal-printed packaging. All of these presumably come with a certain level of aspiration — the implication of a celebrity-branded item is that it can succeed because people want to be like that celebrity. Never mind that Snooki's character and those of her other Jersey Shore cast members fly in the face of everything we've been taught role models should be. They're not that beautiful or healthy, well-behaved, or even hygienic. So how can they get away with selling perfume?
If you've wondered whether the people buying this crap are using it for gag gifts, industry experts like Brian Dow, who represents reality stars like the Kardashians and Bethenny Frankel in licensing deals, says that's highly unlikely. "Those people have fans and they have customers," asserts Dow. "Nicole is one of the breakouts of the show, she has a huge fan base" — 7.6 million people watched the season-five premiere — "so there are a lot of people who like her. That's why licensees are taking  stab at it."

In other words, the people buying her stuff might fist-pump, without irony, at the Jersey Shore themselves, and honestly have the hots for Vinny.

Snooki and her fellow cast members' success in the licensing space, along with the success of other reality franchise product lines (like the Kardashian Kollection at Sears), is but a sign of the times we find ourselves in. "We seem to be willing to give up a lot of control to celebrities," notes Catherine Moellering, executive vice-president of Tobe, a retail trend consulting company. "Like Shoedazzle — you sign up and Kourtney Kardashian selects shoes for you? That's really scary." To mass audiences, the influence of the designer is being overshadowed by these celebrity giants, who, ailing retailers and licensees realize, often have the power to move product off the sales floors at a greater and more guaranteed rate. So, don't expect the number of these product lines to dwindle any time soon.

So, all you aspiring Snookis, or fashion bloggers, or celebrity fashion editors, or struggling designers working toward establishing lasting, profitable brands must tread carefully, and resist the urge to run willy-nilly into the licensing space. With the help of people in the business, we compiled a handy guide to branding based on the successes of the most ubiquitous reality starts.

1. Get on TV. This seems too obvious to mention, but a lot of legitimate clothing designers are not known for fame-whoring themselves on television. Diane Von Furstenberg was a guest judge on America's Next Top Model in its fifteenth season, but can you imagine her going on in the show's second or third? Yet people in — or people who want to be in — the business of making clothes are catching on to the reality that the money is where the eyeballs are, and people on TV have them. A source at a top talent agency tells me that names in the design world — names that would surprise you — are looking at their options in the reality-television space, whether the spots air on television or runs online only as an Internet series. As Rachel Zoe and Bethenny Frankel have proved, going on television is a prudent way to jumpstart a multimillion-dollar product line, and even established celebrities are taking the bait. "Would J. Lo have gotten the Kohl's line if she hadn't been a judge on American Idol? I'm not so sure," the source adds.

2. Craft an approachable persona. When movie stars walk down the street, no one stops them, but when reality stars do it, people bum-rush them, says the agency source, who works with both. And 90 percent of the time, they ask the reality star either for a piece of advice, or about what the star is wearing.  "People have started to say, 'I want to be aspirational in my interests, but i also want them to be attainable,'" this person tells me. "Someone like Snooki could be that to somebody." Reality stars, because we see them on television in their real (if at times, very unreal) lives, already feel like our friends, or at least people we know. Unlike someone like Charlize Theron, who acts in movies and then delivers interviews about them on the red carpet as though she's been trained not to embarrass herself or anyone else. We like the people who are trained to embarrass themselves.

3. Consider making dormwear. People on reality television have let us into their private lives to such an extent that we often see them during pajama time. Those outfits can, in many cases, become one of the strongest identifying features of a realty-television star — like Snooki's bedroom slippers. Catherine Moellering from Tobe also notes that a lot of apparel companies like Abercrombie and Aeropostal have started doing dormwear in the vein of the very successful Victoria's Secret Pink. "There's a whole generation of women that really dresses that way — pajamas tucked into Uggs with full makeup," Moellering continues. "I was in the mall at 7 a.m. on Black Friday and everyone looked like that."

4. Be true to thyself. The de facto canned comment from a reality star with no design training, or someone else who had a hand in a deal for their clothing line, is always along the lines of, "This is something I really believe in and work really hard at." While we shrug those statements off, there's some merit to the meme. The stars "need to have a true perspective on what they're doing," says Dow, who won't sign someone who lacks that. "If someone's like, 'I'm famous what do I do? As a representative, that's not very interesting. They need to have an interest in the category, they need to be involved in the process so they can speak intelligently about the product in the press. Customers can tell."

4a. Wear your stuff (if applicable). The Kardashians actually wear their Sears line, which is the very best way for them to endorse it. "They're not going to design something that they wouldn't wear," Dow says. "Plus that's the fun of it —  you're getting to design for yourself in a way."

5. Be patient with your fragrance. The oversaturation of the celebrity fragrance market makes this seem like an obvious starting point to a brand, but Dow sees it as "low-hanging fruit," rather than the "anchor piece" to a lifestyle line. "Ready-to-wear apparel is an anchor in a collection," he says. "You could be like Christian Louboutin and start women's shoes and branch into men's and handbags, but there are not that many brands you can name that started with a fragrance." Also, those perfumes, though cheap in concept, are very expensive to make, so whoever manages to get one will be pressured to sell a lot of bottles immediately. 

6. Get a lot of Twitter followers. A lot of companies looking to forge deals with celebrities for books or product lines will place more value on the number of Twitter followers a celebrity has than what their ratings are. If someone has a million Twitter followers and one percent of them feels moved enough by one of their tweets about their products to go and buy it, they're still selling 10,000 units. This partly explains why celebrities like Lauren Conrad can have brands that have long outlasted their television careers.