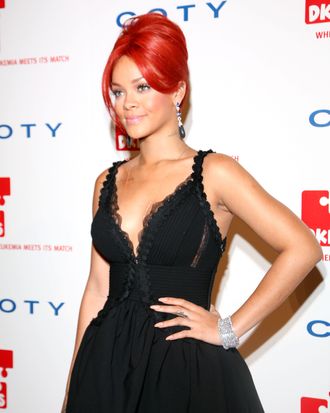 Rihanna.
Photo: Amber De Vos/Patrick McMullan
Rihanna has signed on as executive producer of a new fashion-focused British TV program with cable channel Sky Living. The show is billed as an "original and hugely ambitious new fashion series" that sounds very much like Project Runway, except with every challenge focused on fun, silly outfits for celebrities and musicians (instead of real clothing that people might want to buy and wear themselves, apparently). It'll feature "next generation of raw, undiscovered designer talent" —  in other words, a cast of crazed British fashion students clamoring for exposure. The competition's eventual winner will get to design an outfit for Rihanna to wear during her performance at a concert in London's Hyde Park next summer. (Here's some helpful design advice.)
Rihanna's role on the yet-to-be-named show will see her "heavily involved" in the casting process, as well as its editing and post-production. She's also set to make appearances; however, the primary hosting role is being filled by British singer Nicola Roberts.
Roberts found fame in girl band Girls Aloud — as did the briefly famous Stateside ex-X Factor judge Cheryl Cole, but has now gone solo. (She's actually quite talented, if you like recent trends in Brit pop, that is.) Reasonably well-known in the U.K. for her sense of style, she says she "was so flattered when Rihanna asked me to work with her [on the show]," and is of course a big fan of Rihanna's dress sense, too. Filming for the show will take place this summer, and would-be contestants are being asked to apply here — which may or may not be a wise decision, depending on how much you love sexy glitter, sequins, and booty shorts (preferably all three at the same time).