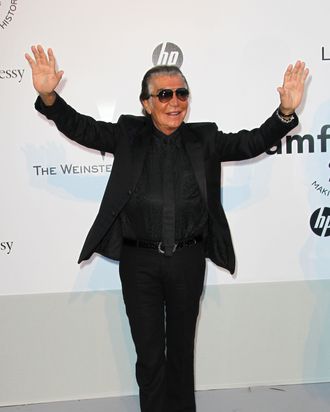 Roberto showing off his typing fingers.
Photo: Tony Barson
Starting this past weekend and continuing with that giddy "this is fun!" fervor that infects all new bloggers, designer Roberto Cavalli has been writing near daily in a new column on his website. (He also appears to have started tweeting at the same time.) Though he really needs little introduction, he started things off quite humbly:
From now on I will write here…
I'll be here with you, every day, or nearly so.
I want to win you over, so, tell me, what do you want to hear from me?
I have many many things to tell you about my life… which I call "MY ADVENTURE "
He's written five long entries so far, about life, love, his trip to Paris for the couture shows, and a new girlfriend he's apparently going to introduce to the world very soon; each post is accompanied by a great personal photo and concluded with an "I love you" to his readers. While many designers outsource their blogs and Twitter feeds to PR teams, there's a candid authenticity to Cavalli's posts that suggests the words are all his own — or at least, those of a very talented, insightful ghost writer. (He even addresses the issue in his first post, "Are you thinking this is not real? I swear it is me, I want to entertain you, and I need to get new emotions … ") So here are some of Cavalli's most quotable sentiments … so far.
On the spring 2012 couture shows:
I was disappointed with the fashion week. There was too much confusion! Meeting up with friends was not easy!
But I was lucky to see Bar Rafaeli (formerly Di Caprio's girlfriend). She is so beautiful! We hugged for a few seconds and then she went back into the crowd …
Too bad the music was not more engaging. I really wanted to dance, even if would not have been so easy in such a crowd!
On his summer's tanning routine:
I live in a small apartment on the Ile de Saint Louis, a small island on the Seine in the heart of Paris … In the Summer I remove the mattress from my bed and use it for sunbathing on my neighbor's roof – such a special feeling!
On bad quality vodka at a Parisian restaurant:
After a great dinner at Costes I booked one of the best tables at Rasputin, the most fashionable nightclub … The bottle of vodka they brought me was full but already opened, definitely filled from a large bottle of poorer quality!
Parisian service!
And aw-worthy thoughts on his love for his dog, Lupo:
There are moments when he looks at me and it seems that he wants to say something, but of course he can't – maybe he is just teaching me that when you love somebody you can speak through your eyes!
Cavalli's also finished his most recent post noting his desire, "to entertain you all … for my life to enter into your lives – like a reality show where we have fun together …" That certainly would be nice.