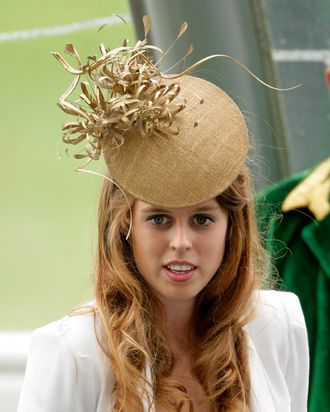 Beatricinator.
Photo: Indigo/Getty Images
The Royal Ascot, having had enough of drunken ninnies ruining the propriety of the races, is enforcing a strict new dress code that will affect the event's signature flamboyant headwear, in addition to skirt length. For those with passes for level 4 of the Grandstand "hats are encouraged but not compulsory," yet "Fascinators are no longer permitted in the Royal Enclosure; neither are headpieces which do not have a base covering a sufficient area of the head (4 inches / 10cm)." This ought to spark worldwide concern for how Princess Beatrice will deal, should she be planning to attend, since she is a known fan of (especially fallopian) fascinators. Charles Barnett, the Ascot's chief executive, offered an explanation for the more stringent dress codes:
"It isn't a question of elitism and not being modern in a world where there is less and less requirement to dress smartly - far from it," he said.

"We want to see modern and stylish dress at Royal Ascot, just within the parameters of formal wear."
What I get out of that answer is that this IS a question of elitism and not being modern in a world where everyone looks like crap and, in modern fashion, embarrasses themselves in the tabloids all the time. You guys?