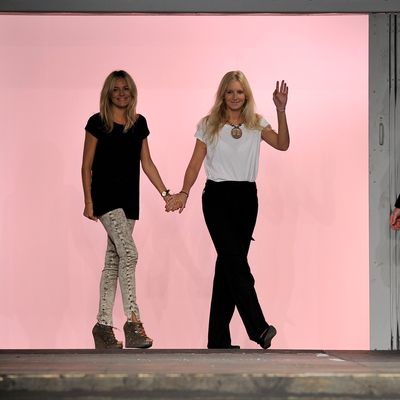 Sienna and Savannah Miller at their spring 2011 Twenty8Twelve show.
Photo: Gareth Cattermole/2010 Getty Images
Sienna and Savannah Miller, who co-founded Twenty8Twelve in 2007 with a hefty investment from Spanish entrepreneur Carlos Ortega, are ending their partnership with the label after a six-year run as creative directors. The line, which is named for Sienna's birthday (December 28), will continue under the current design team — which is to say that probably not much will change, except for the occasional public appearance by the Miller sisters on its behalf. Savannah was largely responsible for the label's initial vision, having received a very respectable design education at Central St. Martins; Sienna can be credited for much of its publicity, including several features in American and British Vogue. 
The label will proceed as usual, showing its fall 2012 collection during London Fashion Week under the leadership of long-standing design team members Vanessa James and Elsa Elphick. The Telegraph reports that the Miller sisters' departure was an amicable decision with the brand's owners, Pepe Group. "We never intended to be a celebrity brand and we remain confident of our DNA," Pepe Group managing director Nish Soneji told Drapers. If that's the case, this is probably the best decision for all involved.