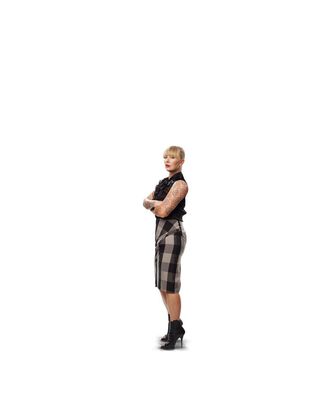 With her design on last night's episode of Project Runway deemed just not even a little bit opera-worthy, Kathleen "Sweet P" Vaughn became the second all star eliminated from the competition. (And with her previous showings on season four and the show's earlier all star mini-season, it's her third auf'ing too.) We spoke to her about who she expected to be waving g'bye in her place, her take on the new judges, and why it's not likely she'll be back in the Runway workroom again.
Especially with it being so early in the season, is it difficult watching your elimination play out on TV again?
Oh no, not really. It was six months ago. I'm over it. What's hard is watching the show with friends — I had a viewing party with about 30 people last night, and they're watching me, not the show! Especially when I'm on the runway [being judged] at the end, they're looking at me trying to see if I'm going to give something away. But I don't, I like scaring them like that. They were like, "What!?"
So were you on board to come back for a third go at Project Runway?
You want to know the truth? They asked me and I said no at first. I was like, "No way, hell no." It's like being the rat that knows the maze, I thought to myself, "Do I really want to go back in there again?" But what can I say, Lifetime wooed me. And then, once you're there, it is fun — I will say that. You're just immersed in fashion.
Does the experience get any easier each time?
I d0n't think it gets any easier — it might actually get harder, doing it over. This time, as soon I landed in New York, I was stressed out, thinking, "Oh they might pick me up and the challenge will start immediately." You just don't know what's happening, but you know it could happen at any moment.
How did you find working with Angela, Georgina, Isaac, and Joanna?
You know, it did feel like we were all on a level playing field, which was good. I know Kenley was really happy that it wasn't Heidi and Tim back. But I love Tim and wish he would have been there. I actually liked him more as a mentor, to be honest. And there's something about the familiarity of the judges we had in the past that I missed. I feel like they understood me more, and I guess I feel like Michael Kors in particular understood my aesthetic better. That would certainly be one reason I wish he would've come back!
Did you find the new judges' criticisms difficult?
Well, with the unconventional challenge last week, to me, my dress represented the piece I'd brought with me, which you didn't get to see at the beginning of the show, oddly enough. Yes, I know that maybe some wash cloths weren't sewn together perfectly, but I really liked the idea. And part of my critique from Ken Downing was him saying he really liked my color palette, which meant a lot. That got edited out. I wish they would have shown it, because the audience tends to just believe the snappy one-liner like, "Oh Sweet P, why didn't you follow your intuition?" And they all think I didn't, but I did!
They weren't too harsh on me last night, and I'm glad about that. I stand by that dress. I do think it was a ball gown and I think it was really pretty. We all thought that April was going home, and she did too. I mean, she was crying beforehand, we were all consoling her. The dress was a mess. I love April, but it was a mess from the sewing, the whole look of it. It wasn't a ballgown, it looked like student work. I hate to say that, I don't like to trash other's work but it was not well made at all. So it definitely was a shock. I feel like I showed something different, and I think bright colors are really big right now. Honestly, it didn't make so much sense to me.
How about the other end of the scale, did you agree with Austin winning?
I'm not sure I do. I love Austin as a person also, but I feel like his dress could have used a little more — more black tulle. He's great at what he does, but I guess I expected a little more, something a little more dramatic. I thought Kenley's dress was gorgeous walking down the runway, and I thought Kara's look should have been in the top. It was fresh and new for a ballgown, I loved, loved, loved it.
Will you be rooting for Kenley and Kara from here on out?
Definitely those two, but I can see Austin going really far. Mondo's really great too. Oh, and you know, Michael is really good. He hasn't gone to school, but that kid can make a dress. He can whip shit out!
When we spoke with Elisa last week, she mentioned she'd been considering working on some of the challenges along with the rest of you all still on the show. Can you see yourself doing something like that?
No thanks, no way! I have a lot going on otherwise. This might come as a surprise, but I quit my last design job about a year and a half ago. I've been to makeup school now, and am working on film and TV commercials. I love it! My husband says I've moved fashion to the face, and I've gotten to work with some great names already. I'm working on a commercial this coming week with Wes Anderson; I just finished working on Roman Coppola's new film. I met some really amazing actors on [the Coppola project], but I signed a non-disclosure agreement, so I'm not allowed to talk about them.