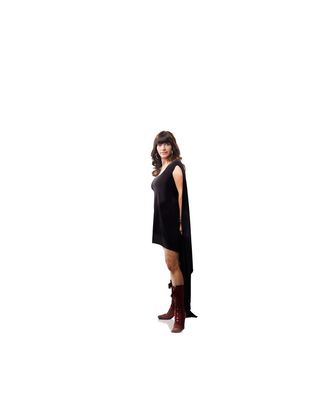 Elisa Jimenez.
Photo: Courtesy of Lifetime
Last night's premiere episode of Project Runway All Stars brought an upbeat hour of pot scourers, sassiness, and familiar, smiling faces. But even amid all the happiness, one of the designers had to take a fall — and that dubious honor went to Elisa Jimenez, previously of season 4 fame. We spoke with Elisa this afternoon about her elimination, her thoughts on the show's new judging panel, and the long (but not 30-minute-long) story behind the roses on her look's hot pants.
Even with the judges seemingly more critical of Sweet P's cloth dress than your own look, you got eliminated last night. Looking back, would you have done anything differently?
I loved my outfit — I'll be showing a more wearable version of it in my spring collection. It was a very tongue-in-cheek look. I'm very like that — you know, the flowers on the little bloomers. I was giggling backstage about that. And the wordplay, I'm a terrible bibliophile. I won't be re-creating the story because I had just come up with it as I wrote it in the workroom. It's part of an ongoing story about a particular character: a girl and, in this case, her arrival into a garden and basically being welcomed by the flowers … in a very non-PG13 kind of way. The version in my spring line will still have a bunch of innuendos, but different ones.
In fact, the only thing is — it didn't make the show, but the judges all criticized my model's shoes. And I didn't like them either — I explained that I would have preferred to let the model walk barefoot, but I didn't think they'd respond well. I always like showing my clothes on models with bare feet, I find it innocently irreverent — and it makes the show much more grounded, literally grounded. Of course, the judges said they would have liked it more if I'd kept the shoes off. So I will say that I took it as a lesson, really: always go with your heart. Second-guessing will make you crazy.
With that said, you seemed to take the "auf-ing" very well.
Oh yes, well you're still an all-star. I'm one of these people, I don't know if you can tell from the show [Editor's note: yes, you can], but I live in a very positive, pro-active, and just, conscious way. My biggest competition is myself, and my expectations of what I'm supposed to achieve — I'm actually competing all the time. I would never consider competing with the other designers, as long as I walk away happy, it's all good.
A lot of Project Runway fans, before last night at least, were concerned about the whole new judging lineup. How did you find working with Angela, Georgina, and Isaac?
I found all of them to be absolutely amazing, it was truly great working with them. Fantastic. When I first saw all the three judges, I remember thinking, "Great, this is really fresh, it's going to be really good." I could just tell, and it upped my excitement. Not that I didn't totally respect working with Tim Gunn, and Michael, and Nina — of course I did, they're phenomenal. But, naturally, a whole new judging panel felt … new. I felt like they really listened to what we as designers were saying, and they responded in kind with what would be helpful.
How about in the workroom with Joanna Coles?
I respect Joanna tremendously. One of the things that she really gave to us all in our workroom discussions — in parts you didn't see also — was her consistently taking the time to consider our points of view. You felt she was very responsible, and in communicating with her about my work, I really appreciated her honesty and her attention to detail. Dialogue with her was really very refreshing because I think we all felt like we were being given information and suggestions about where we could take our work next. It wasn't just, "This is good," or "This is bad." There was an understanding on her part that we are all good, so it was, "How do you want to make this better?"
It felt like the judges took a similar stance with their runway critiques.
Totally, and you know what? — it shows such a level of class. One of the things I've always loved about the concept of Project Runway as a creative tool is that it can pull the red velvet rope away and open up the fashion industry. That's huge! With that, I was hoping there'd be the responsibility of how to show the true, intelligent nature of fashion, and the thought process along with the creative process. I feel like all-stars has pushed it to that dialogue; it's not about things being negative.
So with that all said, even now that you're out of the running, will you be watching the rest of the show?
I'm looking forward to it.
Is there any one designer you're rooting for?
I am. I have to say it. I very rarely ever pick, I don't have favorites — I'm not that kind of person. I would say it over and over again to production and my colleagues, "We're all all-stars." But having said that, I would really like Austin to win. I think it would behoove the history of Project Runway if he were given that acknowledgment. Not to mention the fact that he's a friend now, and he's incredibly talented.