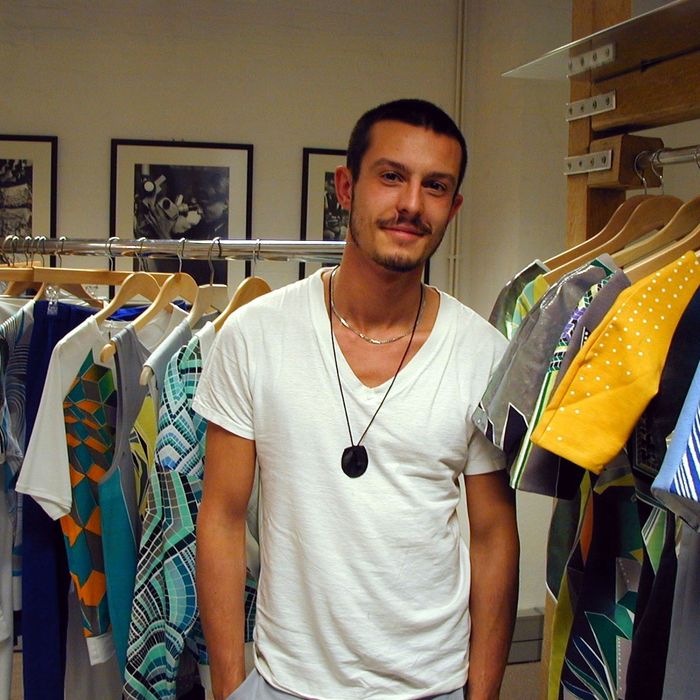 Jonathan Saunders in his studio with his spring 2011 collection.
Photo: Courtesy of Jonathan Saunders
Though 2012 started just two weeks ago, Scottish-born designer Jonathan Saunders has had a busy year. Having presented his first official pre-fall collection in New York earlier this month, he also just debuted his first full menswear range in Milan. In a few more weeks, he'll show his new women's runway collection at London Fashion Week, and, in about a week, he'll find out if he's won the British Fashion Council/Vogue Fashion Fund (for which he's been nominated a second time after losing to Christopher Kane last year). Saunders's traditional silk-screened colors and prints (famously commissioned by Alexander McQueen) include fans like Sarah Jessica Parker, Sienna Miller, and Michelle Obama, while collaborations with Topshop and Target have kept him in touch with the average fast-fashion shopper. We met with Saunders when he showed his pre-fall line in New York to talk about the Fashion Week scheduling debacle, what makes a young label succeed today, and more.  
You're nominated for the British Fashion Council/Vogue Fashion fund this year again, along with Marios Schwab, who was also nominated in 2010, and Nicholas Kirkwood, who's been nominated every year since the Fund's inception three years ago.
People do that every year. Basically there's about ten of us and we all go up for everything.
Right, the CFDA here repeats nominees for these awards, too. It would be nice to have newer designers recognized.
But I think you need to get to a certain point in your business so that you can deal with that kind of growth, you know? I think that's what the British version of your CFDA awards, this Vogue Fashion Fund, is designed around —  designers who have gone to the next level and established their businesses and they need to take it again to the next step. And, I think British designers are all very close to each other and we're all kind of behind each other and there's a good community. We all exchange manufacturers and suppliers and there's a really good energy between us all, so that's good. We're always patting each other on the back, whoever gets it.
What do you think about the issue with Milan and London Fashion Week dates? [Ed. note: Saunders answered before today's resolution was announced.]
I think it's fine. I think that people will come to London anyway. I think Milan needs to be more worried, to be honest. I think London design has changed a lot in the last couple years. I think [in the past] everybody looked at London for new ideas and a younger kind of energy and for [new] concepts to start. But then they looked to other cities for brands in which to invest in and brands which are businesses.That's changed dramatically in the last couple years. I think a lot of British [designers] are now not only coming up with new and original ideas, being at the forefront of developing new things, but they also have a business to back it up. I think that that's what's exciting about London.
What British designers excite you these days?
Well, I think that Christopher Kane's always done an amazing collection; he's always at the forefront of newness. Roksanda [Ilincic] has got a great business these days and is really in touch with who her customer is. There's Ben and Ed, who are Meadham Kirchhoff, who do an amazing job. Louise Gray is an exciting new designer; she just started quite recently. 
Do you like coming back to New York at least?
I love New York — I think it's an amazing city. And I see so many similarities between New York and London in terms of how inspiring it is here. There are loads of bookstores, great bookstores; there are loads of great things to see here. But also the young designers, I love quite a few of [them]. [The] people from Creatures of the Wind – I love them. And SUNO — they're really really good. They're fun.
What's the inspiration behind your first pre-fall line?
I usually work with a lot of color and pattern and textures and that's kind of always been at the core of what we do in the collection. [For] Pre-fall, the silhouettes are quite feminine and soft so it's kind of like early sixties, which feels good after spring being very bright colors – this is a good move forward. The prints are interior-inspired. Charlotte Perigon is an amazing furniture designer from the fifties and sixties, and she did a lot of basket weave and textures and things like that, so a lot of the inspiration comes from [her]. Sweaters are always really key in terms of what we sell in the collection. [There's a] ladies-who-lunch feel.
How will your patterns and prints translate to menswear?
I think because menswear is about a balance of detail and fabrication, the silhouettes and the shapes [from womenswear] can carry on through, can be repeated for menswear. It's a more subtle approach for sure. It still maintains that kind of pattern and texture and color, but it's done in a more subtle way. There's a simplicity to it.
You've been showing in London (and in New York, briefly) for eight years. Do you feel like an established label?
I think so, I think we've definitely established who our customer is. I think having four seasons a year really makes sure you're providing your customer with what she wants — what he wants — now. I think we're getting there. There's always stuff to learn — there's always room for improvement.
What are your goals as a designer?
It's very difficult to see how you are perceived from the outside, I think, internally. The goal is always to have a successful product that people love to wear. At my last show, it was really encouraging for me to see how many editors were wearing my collection on the front row. And I think seeing people wearing the collection is as gratifying as a great editorial, you know? I think it's really important that, not only do you have ideas, but it can translate into something that women want to wear. I know it sounds obvious but it's something that doesn't always happen. So that was really encouraging, but, you know, there are always things to improve on. I think it's about pushing it so [I'm] not stopping at just doing prints, it needs [to be] more.