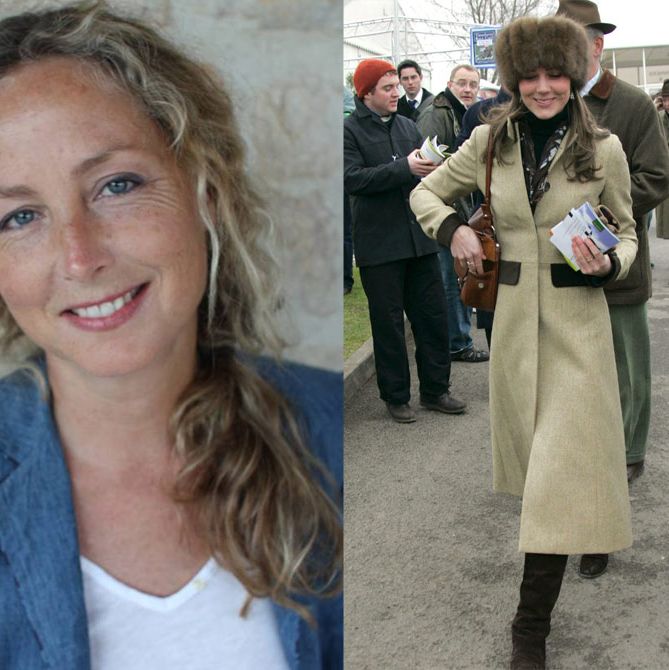 Katherine Hooker, and Kate Middleton wearing Katherine Hooker.
Photo: Courtesy of Katherine Hooker, REX USA
Katherine Hooker's outerwear label began in 2003, after she decided to replicate a coat she had bought in Israel. "I bought a young boy's Hasidic coat in a junk shop," she says. "And it was an old one, like when clothes used to be made for people as opposed to mass market. I was 18 and tiny and skinny, and it fit me absolutely perfectly; it was made for a 14-year-old boy or something." Hooker loved it so much, she found a tailor in India to replicate it for her. Her friends were so enamored with the piece that she started making coats for them, and not long after, in 2004, she opened her shop in London. That store would go on to be frequented by Kate Middleton and her sister Pippa, and royals like Princess Beatrice. Since the duchess has been photographed numerous times in pieces by Hooker, who dressed about fifteen people for the royal wedding, she has expanded her staff and her presence in the U.S., where she's doing more trunk shows than ever before. While the bulk of Hooker's business here comes from those, she won't rule out eventually opening her own store in the U.S., or adding new store accounts (you can currently find her stuff at Peter Elliot Women in the Upper East Side). We chatted with Hooker about America's royal fever, knockoffs of her work, and more.
You must be working on filling orders for the Royal Ascot. What do you think of the stricter dress code this year?
Have they tightened up the dress code?
They're cracking down in some sections, yes. Dresses and tops must have straps of one inch or wider — so modesty should be in effect.
Oh great, then we will be getting lots of orders. That's great. We get lots of people who are going to the Royal enclosure, and they make a point of telling you that. "I need something, I'm going to the Royal enclosure."
Well, you're obviously very well-known now for dressing Kate Middleton, along with other royals like Princess Beatrice and Eugenie. When you fill orders for them, do you have to keep it a secret?
Not really.  I mean, I never talk about any of the customers really. I've spoken about Kate a bit, but I've nothing really to say except that she's a lovely girl. She's not my best friend. 
Why do you think people are obsessed with her style?
She does have quite a strength in her style. Although it's very conservative, there is something that sets her apart from just your average nice, conservative, well-brought-up girl. She's managed to do something — and I can't quite put my finger on what it is. I think a lot of people think that she dresses very boringly, that she should be more fashion-forward and all that, but I think that she's a very strong person, she has a strong personality.
I would also say to those people, she probably couldn't get away with being more fashion-forward anyway.
She probably doesn't have a choice, but I think it would be her choice, because of the sort of person that she is. She's a very straightforward, very normal, down-to-earth person, so she doesn't particularly want to stand out, but she has a good, strong idea of what works for her. There are some things that she's definitely like, "no" — that she doesn't want. And there are some things that she definitely goes for. And I have so much experience with customers and how they are with themselves and how confident they are with the things that they choose, and she's definitely the confident one. She would be in the category of the ones who really know what works, what she likes, what she doesn't like.
There's been a lot of discussion in the U.S. lately about copyright protection for designers, which would make it illegal for fast-fashion stores to knock off their stuff, and make it clear what design elements can be legally protected and what can't be. What's your view on the knockoff situation?
It's an interesting subject because there are people who can't afford to buy this kind of stuff [Hooker's coats can easily cost $1,000], so what do they wear? What are they expected to wear? There's no reason why there shouldn't be designers who design for mass market. Personally, it's not something I feel threatened by, actually. I have things knocked off all the time, like the Alexander waistcoat, which is knocked off exactly all the time. But the services that we offer, the way we [make clothes], the fabrics that we make, there are certain things that you can't — you can't knock this fabric off. 
What's the difference between your coats and what someone might find at a Banana Republic or a Reiss?
They're made much more in the way clothes used to be made before everybody had their clothes mass produced. The structured, more tailored styles are cut with high armholes so they're very elongating, which also gives you mobility. Our Tory coat is the most expensive coat and the most expensive fabric — a double-sided cashmere merino so it's around $1750. It's got the six panels [of fabric in the back], which you wouldn't normally get on High Street because  it's a lot of wastage — it costs a lot to have so many panels. Designers will design something and then the guy who has to keep cost under control will come back and say, "Too many panels." 
Do you get crazed Kate Middleton fans coming to your shop?
We had a very sweet girl who was practically in tears. Most of them pretend that they [are not there because of Kate]. We always say, "So how did you hear about us?" Because we need to know what's working in the marketing department.  And the ones that are Kate Middleton fans, who are usually tall and dark and look a bit like her, they go, "Oh, I don't know how I heard about you." Then you have the ones who are completely honest. We had this one girl who wanted the exact same blue Alexander jacket Kate has, so I had the exact same stuff that was made by a different mill, and stupidly I said, "Well, it wasn't made by the same — " And literally her bottom lip was starting to wobble, and she was like, "I really want the same one!" But she was very sweet.
Do you get any raucous, screaming fans?
When we did a show in L.A., there was this one woman who clearly came in just to look at me. She thought that I must be touched with some kind of royal dust or something like that. 
Your pieces all seem to have very human names. How do you name things?
We name things after all of us or our puppies.