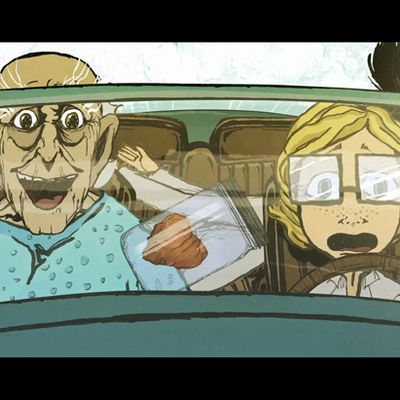 That's Tavi on the right.
Photo: Jonah D. Ansell/"Cadaver"
Tavi Gevinson lent her likeness, and voice, to a new animated short film called Cadaver. The film tells the story of a dead man who comes back to life at the morgue — just looking for some closure, as the undead tend to do. Alongside Christopher Lloyd (the undead guy) and Kathy Bates (the undead guy's wife), Tavi plays Lynn, the poor medical student who's midway through performing an autopsy on a corpse that's suddenly not just a corpse anymore. She's also the film's narrator, and she sings a version of Neil Young's classic "Heart of Gold"; Young personally gave Tavi permission to re-record his music, having only done so a few times since the song's original release in 1972. See the trailer here, which includes Tavi lilting her way soulfully through the song's chorus (we've nearly heard her sing before, of course) and offers more insight into Cadaver's lively plot.