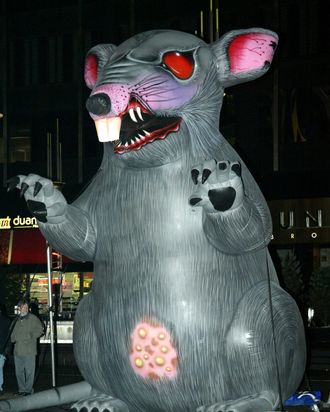 Scabbie the union rat.
Photo: Bruce Glikas/Getty Images
A tipster tells us that the Union Rat (also known as Scabbie) has taken up residence outside the Union Square Sephora, which is currently undergoing extensive renovations. "The union workers were pretty cute, so of course I stopped to talk to them," says our source. Apparently, Sephora has employed non-union workers to revamp the store, which means they aren't entitled to things like bathroom breaks or health insurance. Perhaps, since Scabbie wore a veil outside the Vera Wang offices a few months ago, this time he could get some shimmery bronzer, or at least a little tinted face serum?