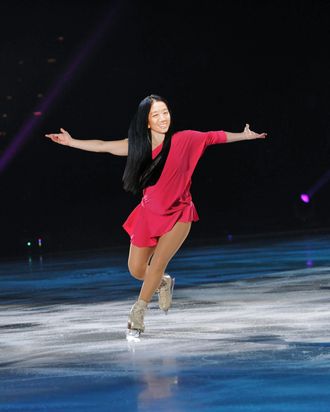 Vera Wang is an ice skating queen.
Photo: Mary-Louise Price; Photos: Jesse D. Garrabrant/Getty Images (ice skater), Jemal Countess/Getty Images for Mercedes-Benz (Wang)
On April 2, Vera Wang will take to the ice yet again — but this time, she won't teach a reporter how to skate, but rather show off her own skills. The annual Skating with the Stars benefit, hosted by Figure Skating in Harlem at Wollman Rink in Central Park, will honor the former competitive figure skater, and, for $300, you can join in on the fun (that is, if you feel confident enough to glide alongside not only a major fashion designer but also several Olympians, including Sasha Cohen, Sarah Hughes, and Evan Lysacek, who will also be in attendance). Just be advised, the annual event is dubbed as a "gala," which can only mean one thing: sparkly unitard.