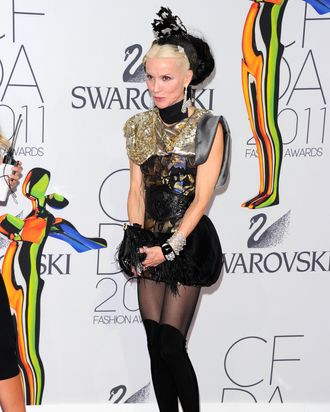 Daphne Guinness, in the flesh.
Photo: Andrew H. Walker/2011 Getty Images
As you may recall, Daphne Guinness did a "performance" in one of Barneys' store windows before last year's Costume Institute Gala, dressing herself in a McQueen gown for all the world to watch (from the sidewalk, through frosted glass). Now she's signed on with Paris department store Printemps to act as a mannequin again, modeling fancy clothes by Gareth Pugh, Margiela, and Rick Owens in their windows. Only this time she won't have to be bothered with all that tiresome standing around in real life, thanks to some digital magic by photographer Nick Knight's SHOWstudio. They're making "virtual statues of Guinness created from a photographic image, using cutting-edge three-dimensional scanning technology," according to WWD. So basically, it sounds sort of like Princess Leia in Star Wars: A New Hope (anyone?), only with better clothes.