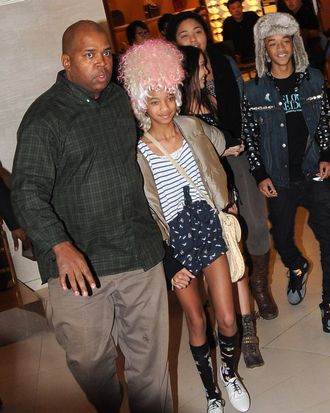 Willow Smith.
Photo: BuzzFoto/BuzzFoto
FRAGRANCE
• Axe Body Spray is starting a product line for women. [Styleite]
• L'Oréal is suing a Florida wholesaler for selling knockoff bottles of Giorgio Armani's Acqua di Gio, along with other fragrances including Polo Black and Armani Code. [NYP]
• Lindsay Lohan is the new face of FCUK's "Friction" fragrance campaign.  [ONTD]
MAKEUP
• Natalie Portman has a new ad out for Dior mascara. [SassiSam]

SKIN
• Snooki got a a big shooting-star tattoo on her shoulder. [HuffPo]
• And Justin Bieber got a tattoo of Jesus on his calf. [NYDN]
HAIR
• Willow Smith went shopping at Louis Vuitton wearing a pink Marie Antoinette-style wig, which may have been a gift from Nicki Minaj. [Styleite]
• A man robbed a beauty supply store in Dallas this week at gunpoint, demanding all the cash in the register and all the hair extensions behind the counter. [HuffPo]
• The Parker Meridien is adding a $4 million beauty and health floor to its lower lobby, which will include a Drybar and a Tenoverten nail salon.
COSMETIC SURGERY
• The number of men getting cosmetic procedures has doubled in the last fifteen years.  [ABC News]