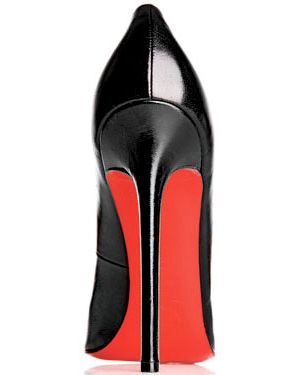 A Christian Louboutin Shoe.
Photo: Danny Kim/New York Magazine
The case of the red-soled shoes is still here, with all due apologies to Cathy Horyn and everyone else who wished to leave this behind in 2011. YSL now has eleven law professors, who specialize in subjects like trademark law at universities across the country, on their side, filing a brief stating Louboutin's case to protect the use of red "should be rejected in order to preserve freedom of innovation and competition." 
WWD reports: 
The professors said Louboutin and its supporters are arguing against the doctrine of "aesthetic functionality" which prevents companies from using "trademark as a kind of back door to perpetual patentlike protection for attractive but non-novel product features.…[If] the relevant consumers want a product feature because it is especially attractive, then that feature is not a proper subject of monopolization by a single producer — unless it meets the demanding novelty requirement of design patent."

The professors noted: "A woman who buys red shoes is doing so for a reason — red shoes have a particular meaning to her, and to others, that cannot be supplied or even approximated by shoes of a different color. Given the substantial creativity involved in both fashion design and fashion consumption, courts should not lightly allow one particular competitor to monopolize particular fashion submarkets."
No comment from the lawyers on how the "particular meaning" of red-soled shoes may be forever altered by this case. By the time it's done, it's entirely possible no one will want them anymore. 
Related: Needless to Say, YSL is Having None of Louboutin's Appeal
Tiffany & Co. Takes Christian Louboutin's Side in Red Sole Lawsuit