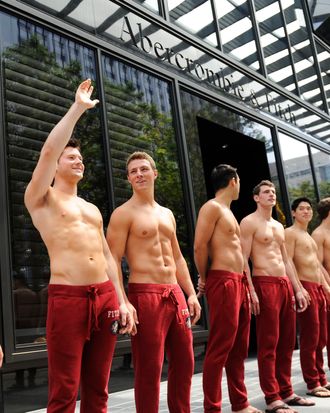 Not working.
Photo: Simin Wang/AFP/Getty Images
Many of us (ahem) succumbed to the devastating appeal of Abercrombie's cargo flares in sixth grade, only to walk into the mall one day and realize, "Good God, this store stinks, both literally and metaphorically." But even now, it's impossible to walk through Soho on a Saturday afternoon and not be stopped by a group of Sephora bag-clutching, metal-mouthed teens and asked where the Abercrombie store is. Nonetheless, it appears that Abercrombie has finally outgrown itself, at least domestically. The store has suffered from poor sales for a while now, and is closing almost a third of its outlets in the U.S. by 2015 (it already closed 135 stores over the past two years, and will trim roughly 180 more), according to WWD.
But instead of fading quietly, the store is aiming its cologne nozzles towards Europe and Asia; it opened 47 international stores last year, and plans to continue solidifying its presence overseas (despite early reports that its European expansion isn't exactly a hit). Anyway, the moral here is that sadly, not all problems can be solved by shirtless men with six-packs. 
Related:
Abercrombie & Fitch's European Expansion Isn't Going So Well
The Situation Gloats Over Abercrombie's 10 Percent Stock Price Dip