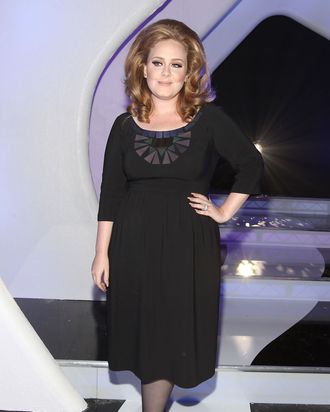 Adele
Photo: Christopher Polk/2011 Getty Images
Adele responded to Karl Lagerfeld's remarks that she's "a little too fat" in a new issue of People:

'I've never wanted to look like models on the cover of magazines. I represent the majority of women and I'm very proud of that.'

'I'd lose weight if I was an actress and had to play a role where you're supposed to be 40 pounds lighter, but weight has nothing to do with my career. Even when I was signing (a contract), most of the industry knew if anyone ever dared say (lose weight) to me, they wouldn't be working with me.'
Adele's comments come after Karl Lagerfeld's apology, in which he said, "Sometimes when you take a sentence out of the article it changes the meaning of the thought. What I said was in relation to Lana Del Rey and the sentence has since been taken out of context from how it was originally published." So, the reason the comment is so offensive is because of us? Because of writers and commenters who are isolating that one sentence instead of also running the sentences he said before and after it? Why goddamn, this is all our fault!
Except, of course it's not. The comment is mean-spirited no matter how you spin it. And Karl Lagerfeld's apology was nothing more than a failed and flailing excuse with an "I'm sorry" at the end. The whole fiasco reads like any other high-profile blunder (hi, Mark Wahlberg), when a celebrity lets his own ego get in the way of the political correctness the general public expects.
But you can't blame Karl Lagerfeld for thinking of Adele in relation to her weight. Of course he does, because not only does he lord over an industry that is obsessed with it, but we also live in a time when women are defined by their size. No one obsesses over a celebrity dude's post-baby body or muffin top or ass size. Karl's much less likely to have said, "Seth Rogan is very funny, but he is a little too fat." So the problem is not only with Karl Lagerfeld saying a dumb, mean thing, but with us expecting any discussion of a woman in the entertainment industry to turn to diet, exercise, weight, shape, how she feels about her body — the list goes on. Backstage at the Victoria's Secret Fashion Show, for instance, you'd be hard-pressed to find reporters asking any of the models about anything else. And so, when we get someone like Adele, who is incredibly popular despite her refusal to diet since she has no desire to conform to a ridiculously unrealistic ideal, and put her goods on display like those Victoria's Secret girls and so many women in her industry, Karl and everyone else don't know how to react.
All that said, Karl's "too fat" comment may not be worth getting that upset over, anyway. This is Karl — he says crazy shit all the time!