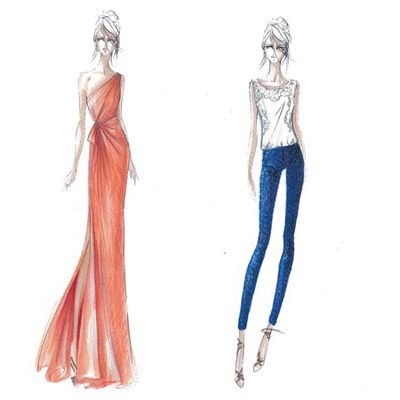 Two sketches from Ferretti's forthcoming collection.
Photo: Courtesy of Alberta Ferretti, Macy's
Italian designer Alberta Ferretti is the latest big fashion name to work with Macy's on a collection for the store's Impulse department. She follows Kinder Aggugini, Matthew Williamson, Karl Lagerfeld, Giambattista Valli, and the store's most recent collaborator Doo-Ri Chung, whose line isn't even in stores yet. With plans to continue the Impulse collaborations at a rate of about five per year, it seems Macy's is going to have to keep overlapping their PR campaigns to get word out about each successive new line — so don't let this news overshadow the Doo.Ri collection.
Macy's vice-president of marketing described Ferretti as "a very top of mind [designer] today," who appeals to both American and international customers. Ferretti's collection of around 30 pieces will include knitwear, garden-party dresses, and quintessentially Mediterranean peasant blouses — many in "delicate fabrications" like chiffon and voile. (See preview sketches of two looks here.) She describes taking the line's inspiration from a summer spent on the Amalfi Coast, "fresh and bright … [evoking] the spirit of my beautiful country." Of Macy's 220 stores nationwide, 185 will feature the collection either in part or in full.