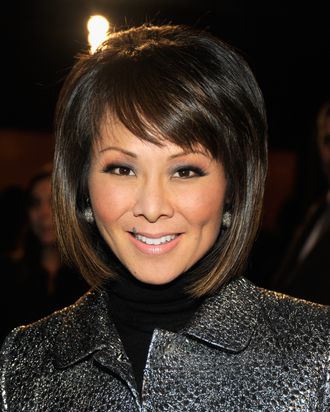 Alina Cho
Photo: Rabbani and Solimene Photography/2012 Getty Images
Shortly after The Cut called CNN journalist Alina Cho this morning, she heard a knock at the door of her Beverly Hills hotel room. It was someone picking up her gown to be pressed for Elton John's dinner and the Vanity Fair Oscars party on Sunday — but more on that later.
Tomorrow (Saturday) afternoon at 2:30, Cho's fifth installment of CNN Backstage Pass will air — the news network's first fashion series since the epic Style with Elsa Klensch. So did Cho watch her CNN Style predecessor? "Who didn't?" she asked. "I mean, the bob? She was — and still is — a legend." In past seasons, Cho has interviewed some legends herself: Karl Lagerfeld, Alber Elbaz, and Marc Jacobs, who frankly sounded like her favorite. "There's just no filter!" She laughed. She's even followed Lindsey Wixson to the prom (really). Naturally, The Cut was curious to know what to expect tomorrow. 
Cho said it's important to mix some marquis names in with the up-and-comers for CNN's not entirely fashion-focused audience. This season, that means talking with Donna Karan about her work in Haiti, and because it never hurts to throw a model in the mix, Joan Smalls.
"Who doesn't want to watch a supermodel on television?" Cho reasoned, and rightfully so. She tagged along with Smalls during New York Fashion Week, where she conducted the entire interview in a car between the Derek Lam show and an Alexander Wang fitting and, of course, picked up more candid moments backstage. She also got Marchesa's Georgina Chapman to dish about the brand's business model.
"Georgina fully admits that she doesn't know if Marchesa would be around if they didn't have red carpet dressing," she said. "They do not spend a penny on advertising. They literally have built their business on the backs of celebrities." (This will make it more interesting to see who Chapman dresses for the Oscars Sunday — perhaps one of her husband Harvey Weinstein's starlets?)
Tomorrow's show will also have a "Designers to Watch" segment, featuring Cushnie et Ochs' Carly Cushnie and Michelle Ochs. Cho says since starting the show, she finds herself wearing the work of younger designers.
"In fact," she said, "I'm out in L.A.to take in the L.A. equivalent of Fashion Week, which is Oscar weekend. I'm here for fun, but I can tell you that Ohne Titel made me a  gown and I can't wait to wear it. It's cobalt blue.  All I can tell you is that it will look somewhat familiar to you."
So that takes us through Sunday. What about seasons ahead?
"Tom Ford is one I've not yet interviewed," she said. "I would love to spend some time with him." Fingers crossed.