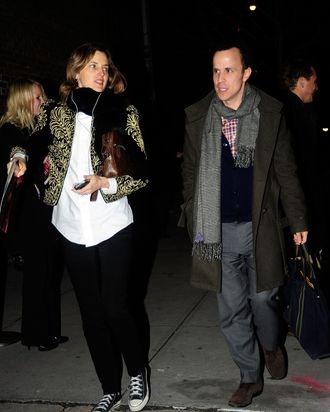 Guests are seen heading to the Proenza Schouler show on February 15, 2012 in New York City.
Photo: Daniel Zuchnik/Daniel Zuchnik
The Cut couldn't help noticing the Barneys fashion director (whose towering Alaïa heels we documented in September) was sitting on a bleacher after yesterday's Proenza Schouler show wearing – wait for it – black Converse high-tops.
"I feel so geriatric," she said. "I've got this recurring back problem, and the only day the hospital could take me within three weeks was today, so I'm flats-bound for a bit. I'll end up feeling much, much better, and being able to wear heels again, but it's very liberating. It's amazing how much more emotional energy you have when you're wearing flats! You can go anywhere or do anything in flats. Something about heels just makes you want to lie down."
We didn't think her Converse looked geriatric at all. "I was trying to balance them with my mom's eighties Oscar de la Renta jacket," she said, of her gold-embroidered black bolero. "So I looked a little festive. Oscar actually offered me anything I wanted to trade it for the archive. I really thought about it, but in the end I felt like the nostalgia of it was more important than anything new I could get."
And it looks really good with high-tops.