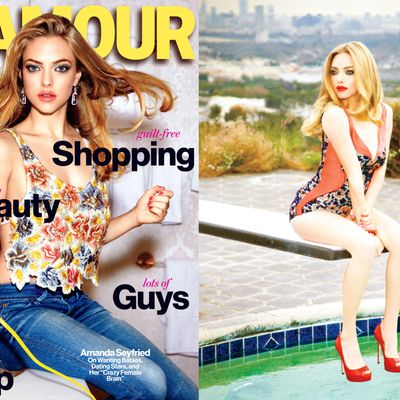 Amanda Seyfried on Glamour's new cover (left) and accompanying editorial, shot by Ellen von Unwerth.
Photo: Ellen von Unwerth/Courtesy of Glamour
Not to be outdone by Harper's Bazaar's big reveal, Glamour also released their redesigned cover today, which depicts Amanda Seyfried, a blow dryer, and — brace yourselves — yellow title text instead of the usual pink.  "To me, yellow means breaking news," Cindi Leive tells the Times' Eric Wilson. In a press release, Glamour's publicist noted that "the cover does not have a typical solid background or traditional hand-on-hip pose" — instead, Seyfried is perched on a sink wearing a skimpy Balmain halter-top and blow-drying her already dry hair. Whether this is as "daring" as Bazaar's new back-of-Gwyneth's-head cover is for you to decide.
The redesigned Glamour has undergone some content changes, too. Wilson reports that there will be more of a focus on celebrities, and no foreseeable decrease in Kardashian coverage: "A paparazzi shot of Sarah Jessica Parker illustrates a trend in colorful pants; shots of Sienna Miller and Kim Kardashian show big buns. That's buns, I said." Oh, Eric. They've also expanded the "Dos and Don'ts" section to a multi-page feature and changed the tone of their sex coverage. Wilson writes:
The sex talk has not so much gone missing as it has been repackaged, now a little more provocative and a little less instructional. An example: One article asks, "Is everyone kinkier than you?"
Although Glamour's ad pages are up 5 percent over last year's March issue, topping out at 181, they still lag behind other top fashion titles and don't even break into the top five (Vogue, InStyle, Elle, Harper's Bazaar, and W). But the real measure of the redesign's success will be newsstand sales, which have traditionally been Glamour's strong suit.
Related: Here's the Back of Gwyneth Paltrow's Head on Harper's Bazaar's Redesigned Cover