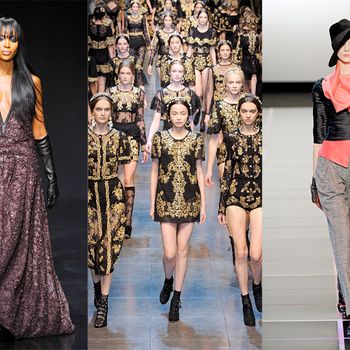 From left: looks from Robert Cavalli, Dolce & Gabbana, and Giorgio Armani
Photo: Imaxtree
Here is New York Fashion Director Amy Larocca's final entry from Milan. Check back for her Paris adventures.
Monday, February 27
9:00 a.m.: Breakfast at the Principe Hotel. Sitting in the lobby waiting for my appointment, I am reminded of the whirling hotel scene from the Robert Altman movie Pret-A-Porter. It's just like that, with everyone wheeling their bags down for checkout and making very specific orders for very specific coffees.
10:15 a.m.: Re-see at Dolce and Gabbana. It's even more beautiful in person. One of the great moments of any fashion week anywhere is the Dolce finale, where 50 models take the runway in a group, all wearing one-off pieces that tend to fall into the underwear category. This season, it was all hand-embroidered black tulle with thick gold thread. At the re-see, you get a nice, close look at all 50 looks, as well as the regular runway collection. Even though it's ready-to-wear, this is Italy and it might as well be haute couture.
11:15 a.m.: One of the things I like very much about Milan is that there's tons of graffiti on the buildings. On my way to the Armani show, I see an enormous, Shepard Fairey-esque Gary Coleman.  
11:30 a.m: At Giorgio Armani's main collection, I am delighted to see our Cut TV correspondent (!) Coco Rocha open the show. There's always applause at an Armani show. Certain outfits and certain models are invariably clapped for. I try to predict which ones, but I tend to not get it right. I'm not surprised at the applause for a silk organza top in a beautiful shade of coral — it has a neck like a lily — but some others leave me confused (like, why these Bermuda shorts and not those?). There are pink and orange lights on everything, and the models are wearing very dramatic hats cocked to one side — all the better for when they hit the middle of the runway, at which point they give elaborate, sideways glances. 
1 p.m.: Roberto Cavalli walks around the runway with his pet German shepherd and closes the show with a purple, completely bedazzled Naomi Campbell. And that is how we say Ciao, Milano.
6:10 p.m.: I'm on an Alitalia flight to Paris along with 4,000 models, Dean and Dan Caten, and a pile of tired editors all looking forward to Tuesday, fashion's day of rest. I'll be back Wednesday, when I start Paris Fashion Week at the Dries Van Noten show.