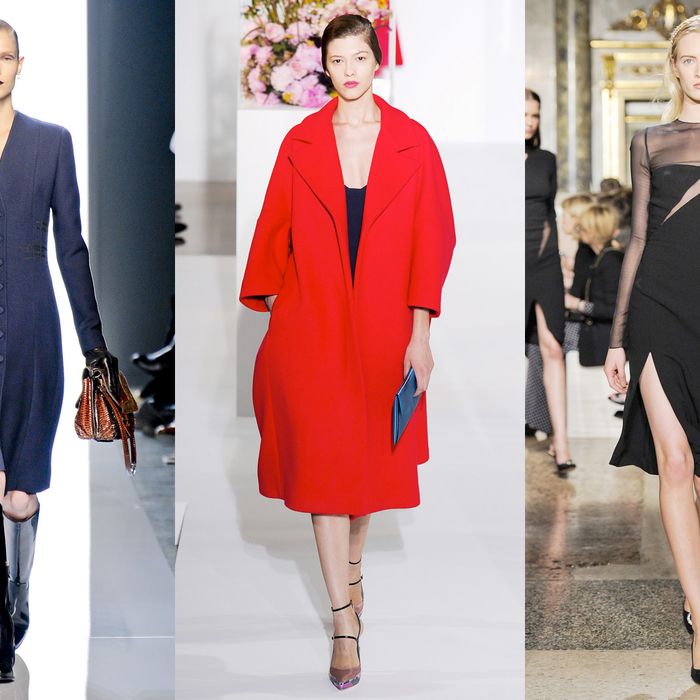 From left: looks from Bottega Veneta, Jil Sander, and Pucci
Photo: Imaxtree
As Milan Fashion Week continues, New York fashion director Amy Larocca documents her days spent in the thick of it all.
Saturday, February 25

9:30 a.m.:  Tomas Maier is an exceptionally civilized man and so the Bottega Veneta show is a totally civilized experience every single time. I was completely intrigued by the video cameras that moved smoothly in tracks on the ceiling in perfect tandem with the models. Such precision! Only Tomas Maier. The clothes were similarly precise, but also very pretty, particularly the coats. Of course we all think of him as a bag man, but lately Maier has been doing really spectacular jewelry.
10:30 a.m.: I'm always a bit relieved to arrive at Armani HQ: there are really nice, clean bathrooms and really comfy seats. Mr. Armani sends his models down the runway in groups: pairs in corresponding colors, dialoguing shapes. They also, unusually, pass down the runway just once — there is no finale. There was also not a single high heel in the collection, and just about every look involved silk knickers. There were some amazing technicolor dream coats towards the end. Also, one important beauty note for the season: Everyone is pale.
11:30 a.m.: I stop by an Italian supermarket to pick up a few essentials — like diapers —for my daughter. There are jars of ground prosciutto and branzino baby food on the shelves. Also, something that I think is ostrich.
2 p.m.: And here it is, Raf Simons's final show for Jil Sander. It's weirdly emotional from the opening look — a pale pink cocoon coat that floats on the model's slender back — and it only gets more so as it progresses. The clothes are just so beautiful: the knit dresses are light and elegant, and everything is so exact and so modern yet also warm and alive. The timing and the edit of the show is also amazing: You settle into a passage of pastels and bam — the prettiest red coat in the world. This is one of those shows you want to go on for days, one that makes you understand why certain clothes deserve to be shown in this weird hybrid medium of art and performance. There is a standing ovation, with lots of brava! Suddenly everyone rushes the runway, cheering. And then the security guards pull Simons out for an encore bow. His face is pink and he is tearing up, and suddenly so are all sorts of people, people you wouldn't expect are rubbing their eyes, looking sheepish.
3 p.m.: Re-see at Prada. FYI: the purple carpet is still in place. Also: the embellishments are intricate and incredible up close.
4 p.m.: A nice break to take a walk. It's carnival day, which is something like Halloween. Everywhere there are kids in costumes tossing confetti. I see one grown man dressed like a Native American. He is wearing what I guess you'd call "red face"? It's disturbing.
6 p.m.: Drinks in the hotel lobby. Half the tables are filled with people killing time before heading to Pucci, the other half are occupied by very tall, very young models having cocktails with older men … men who are overwhelmingly on the shorter side of average and on the stubblier side of clean. Ugh. Just, ugh.
7 p.m.: The Pucci collection starts off much sleeker than is usual for Peter Dundas, who I tend to think of as existing in the sheer caftan camp. The hair is great (this is turning out to be a great season for hair). It continues in that direction, and I like it quite a bit. I also like that Dundas always makes me think of Christopher Atkins in the Blue Lagoon. What I never like is being shoved by Anna Wintour's bodyguards, which somehow happens every year after Pucci.