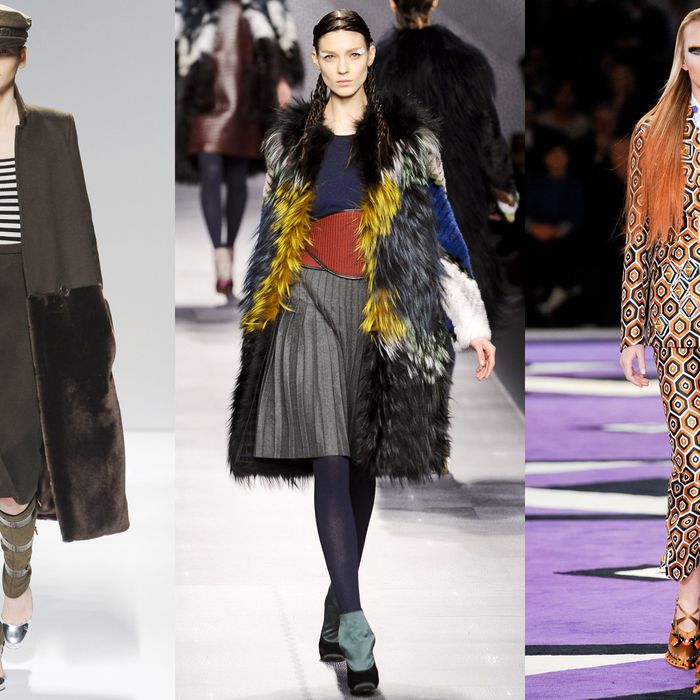 From left: looks from Max Mara, Fendi, and Prada
Photo: Imaxtree
Here is the second installment of New York fashion director Amy Larocca's European Fashion Week adventures.
Thursday, February 23
9 a.m.: Hello, Max Mara! I start off the show by writing things in my notebook like "Berlin" and "belted, felted leg-warmers," only to find myself eventually transcribing the lyrics of the soundtrack. It strikes me as being kind of early in the day for the kind of things the music addresses: "selling your soul, never look back," for example, and "each man kills the thing he loves." Also: "love is dead in the metropolis" and "the city is a wasting disease." 
9:45 a.m: Perhaps something to eat will help lift the melancholy, so it's off to The Four Seasons Hotel (sometimes I just don't want to stand up for breakfast). As I'm walking across the lobby, Lady Amanda Harlech whizzes in through the revolving door, and then whizzes out just as quickly in a whirl of black tulle — a brunette Daphne Guinness. 
11:30 a.m: At Fendi, I decide that navy blue tights are the way forward. Also: the wacky, tie-dyed furs that close the show are kind of great. I've always considered "rich hippie" and "luxe boho" among the more annoying fashion descriptors, but, well, that's kind of what they were. Like, if you were a very rich, non-vegetarian hippie, these would suit your look quite well.
12:30 p.m.: Lunch at the Park Hyatt with some Italian colleagues. Silvio Berlusconi isn't in office anymore, but he's still conversation topic number one.
2 p.m.: A break! My daughter wakes up from a nap; it's warm and sunny outside so we head out for some window shopping on the Via Montenapoleone, where editors of many nations are also enjoying the break and clogging up the Céline boutique. I consider working for one week at Céline and another at Prada in order to receive the employee outfits.
4:30 p.m.: Valextra's shop and showroom are next to La Scala on the Via Manzoni. I love Valextra — I love the gobs of colors all piled up, I love the complete and total lack of hardware and logos, I love that they make teeny, tiny little cases for teeny, tiny little cards. I also love the Boston, the Romy, the Romina, and the shopper, and the luggage, which is too beautiful and glamorous to ever check. At my preview appointment, I meet the new head of communications, who has very blue eyes and is the nephew of the company's founder. This season's projects include a collaboration with a landscape architect named Patrizia Pozzi (everything inspired by lotus flowers), and two new colors, teal green (inspired by a green tea) and a bright red called "ribes."
6 p.m.: Some of the things I think about while waiting for the Prada show to start: Mr. and Mrs. Sozzani Sr. must be incredibly good-looking people; I love that everyone gets their own Styrofoam cube to sit on; if the show starts very late will everyone's cube eventually squash?; what are they going to do with all this purple carpet after the show? I also love Francesco Vezzoli's pants, and I spy three people wearing sunglasses in this windowless cement warehouse, where it's actually kind of dark. And then, the clothes. It's a quieter collection than last season's auto mania, but what I liked about this season was that it was all so very … Prada. It was like a Prada show about Prada: that rich black wool, those graphic prints, that heavy embellishment. If you like Prada — traditional Prada (and I do!) — you will like this collection. 
8 p.m.: Dinner at the Bulgari Hotel with the team from Bulgari. I am told top-secret information about $5 million worth of jewelry that may or may not be going to the Oscars on Sunday night. At the next table sits Romola Garai from The Hour, which is a completely fantastic British television show that is not Downton Abbey.  
11 p.m.: To bed! Stella McCartney's one-off collection has been brought to Milan, and I have an appointment to see it first thing in the morning …