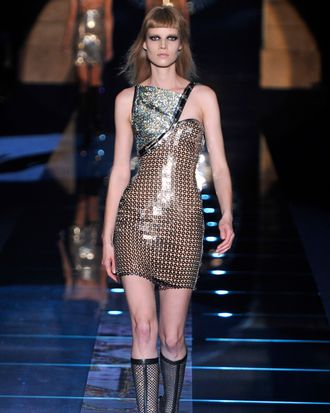 A look from Versace fall 2012
Photo: Chris Moore/Catwalking/2012 Catwalking
Amy Larocca, fashion director of New York, continues to file her daily adventures from Europe during Milan Fashion Week.
Friday, February 24

10 a.m.: "This is going to be a short appointment," says Jeremy, the Stella McCartney PR guy when I turn up at the company's Milan offices to see the evening collection that was shown last week in London on a bunch of supermodels doing a choreographed flash mob dance. It's a small collection to begin with and, as it's an evening collection, and this Sunday is, you know, a very important Sunday for evening dresses, quite a few pieces are already winging their way West. But you know what? Stella McCartney is great — I always feel like wearing everything she makes. Also: Everyone who works for her always looks perfect, like you want to scream "SWAP!" and trade outfits with them on the spot. They always — and this is important as I have seen two people who fell victim to their shoes and ended up on crutches — look like they can walk.
11 a.m.: Re-see at Gucci. A group of Japanese editors are having an appointment at the same time. The men keep trying on the clothes and taking pictures of each other. They go totally bats for the fur.
1:00 p.m.: Luncheon at the Palazzo Reale, which is an 18th ccntury palace beside the Duomo and the original site of Picasso's "Guernica" exhibition. I'm there to preview this spring's Costume Institute exhibit on Prada and Schiaparelli, and Miuccia Prada is there looking sparkly. Waiters in white jackets serve a goopy saffron soup, which isn't very good, but I'm thrilled at the gesture. I'm also thrilled by the room, with its high ceilings and faded everything, it is exactly what Americans want Italy to be. So I'm happy, even if I am distracted from Andrew Bolton's quite interesting speech by trying to catalog the decay on each of the statues that hangs from the walls. There are lots of them.
2:30 p.m.: Re-see at Fendi. I learn what astrakhan actually is and wish I hadn't. It's nice to see the looks unpacked. Also: the baguette is back.
5 p.m.: Tod's holds its presentation every season on the grounds of Villa Necchi, which is that Brutalist house from that Tilda Swinton movie I Am Love. There are docents on hand to give tours of the house, which was occupied until very recently by the spinster Necchi sisters. The first few times I went there, I was too spooked from the movie to linger around the pool much, but I'm over that now. This is one of my favorite parts of the week in Milan because that house is just. so. amazing. And today the weather is gorgeous and the villa's gardens are all dappled sunlight, and I love the line's new alligator pochettes and the Miky, which is Tod's "bag of the season" this year.
6 p.m.: Armani is doing a big relaunch of their accessories and they are showing them off tonight in a suite at their super-fancy new hotel, which has the most incredible view of the city from its lobby on the 6th floor. I'm a sucker for navy blue, suede, and ostrich, and all three of these things are in abundance.
7:30 p.m.: Next up is the Sergio Rossi collection, in yet another beautiful suite of rooms, complete with endless trays of prosecco and little canapés involving creative permutations of mozzarella, prosciutto and cherry tomatoes cut in half (or in quarters, or left whole and speared with a pick). Luca Guadagnino (of I Am Love fame) made a film for the company, starring Diana Dando and a whole bunch of leather. The movie is quite beautiful, but then it just gets to be too weird watching Olivier Zahm watch a beautiful woman slowly dress herself in beautiful leather, so I wander through the rooms and back out to the street.
8:30 p.m.: The photographers are clamoring around someone across the runway at Versace, and I am both disappointed and excited to see that, after they clear, I have absolutely no idea who the person with the poufy blonde hair actually is. (I love seeing the frenzy created by people who have no resonance in America whatsoever.) There is a lot of metal, and everything is short, glamorous and sexy. Which is actually what Donatella is, too, when she takes her bow, with a waist that looks like it was made (or, at least, carefully modified) by the one and only Mr. Pearl.