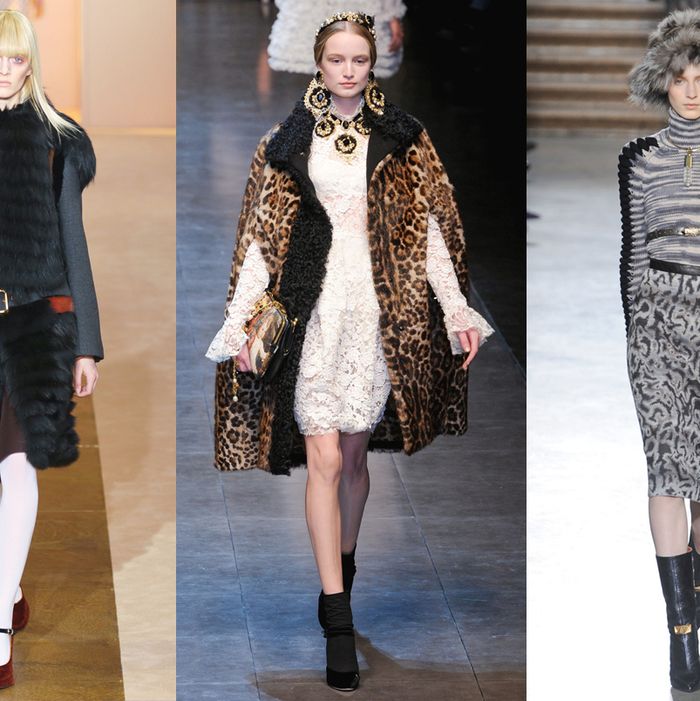 From left: looks from Marni, Dolce & Gabbana, and Missoni
New York's Fashion Director continues to deliver the play-by-play on what's going down during Milan Fashion Week.
Sunday, February 27

9:30 a.m.: Re-see at Max Mara and SportMax. Learn that the Max Mara collection was inspired by Fritz Lang's Metropolis, which sheds some light on the soundtrack. Whatever the inspiration, Max Mara makes the most fantastic coats, and there are plenty here. Sportmax was inspired by martial arts, and it is all really sleek and sporty, and there are the best-ever turtleneck sweaters with rounded seams. None of this explains the soundtrack there, however, which was too dirty to write about.
10:30 a.m: It's always sunny at the Marni show, and this morning doesn't disappoint. Now this is a moment when it's actually acceptable to wear sunglasses indoors. The street-style photographers go bonkers here — well, it's getting to the point that they go bonkers everywhere, more on that in a second. I'm mixed on the ankle-socks-and-high-heeled-sandal combo that's been happening lately. When it's good, it's very, very good, and when it's not, it's just not. The clothes do that amazing Marni thing of layering beautifully, and I always love a wacky Marni fur. I also think Consuelo Castiglioni has some of the best style around. 
11:30 a.m.: Jil Sander re-see. The clothes are even more beautiful close up. They might even be the prettiest clothes in the world right at this very moment. 
2 p.m.: Once you get inside the door at Dolce & Gabbana, which is a complete nightmare for anyone who is crowd-phobic (my only consolation while getting shoved and jostled is that Emmanuel Alt is being shoved and jostled very close to me, so how could I take it personally?). However, this is consistently one of the most fun shows of the entire fashion month. The hall is decorated with rose-covered chandeliers, garlands, and one extremely rococo mirror. The music ("'O sole mio!"), the mood — it's all so Italian in exactly the right way. What I love so much about Dolce & Gabbana is that it manages to be tongue-in-cheek and beautiful at exactly the same time, without straining in either direction. The lace dresses, the gold embroidery, the spectacular earrings in which the models looked like Renaissance paintings … yes, yes, yes to all of it. 
4 p.m.: Missoni shows in a courtyard at the university here, and it's a spectacular location. Much is made of Milan being less beautiful than, say, Paris or Rome, but in this courtyard, it's hard to pay much attention to that argument. The show is long — with models in various iterations of Missoni knits and scarves — but the whole thing looks snuggly and good. Another mysterious soundtrack: at one point, someone screams, "My mother never taught me to cook and that's why I'm so skiiiiiinnnnnnyyyy." And I'm pretty sure I hear the voice of Woody Allen at one point.
6 p.m.: The Ferragamo collection is shown in the Borsa, and right now there is a giant statue by Maurizio Cattelan right in front. It's a huge (36 feet huge) middle finger. It is, as many have noted, pointing out from the Stock Exchange, rather than in. Cattelan says the whole thing is mainly about immigration, but it's hard to think that's all it's about right now. Anyway. Inside Ferragamo, there are some very pretty bohemian dresses. 
7 p.m.: Italian designers are into diversifying: They've got hotels, restaurants etc., and tonight Dolce and Gabbana throw a cocktail party at their Gold restaurant. Monica Bellucci is there (or so my driver, who was waiting outside, reported — I never see her, just the dazzled paparazzi she leaves in her wake). There are paper cones of fried snacks going around, including what I'll call the world's most delicious pizza-flavored hot pocket even though it has a proper Italian name and can definitely not be found in your grocer's fridge. 
8 p.m.: A sampling of rumors from cocktail hour in the lobby of The Four Seasons Hotel: Raf is going to Dior. Raf is going to YSL. Hedi is going to YSL. Stefano is going to Dior. Raf has been looking at studios in downtown New York, out of which he will launch his own collection. Jil Sander (the company, not the person) isn't even going to bother producing Raf's last collection because they are so angry that Raf quit. Jil Sander fired Raf. And so on. There are a lot of people saying, "But I just don't understand!"
8:30 p.m.: Turns out if you're late to Versus (see  cocktail hour, above), you are ushered in through the back garden, which is full of soaring trees and a fantastic little gazebo. I think, for not the first time, how smart it is of Donatella to team up with Christopher Kane.