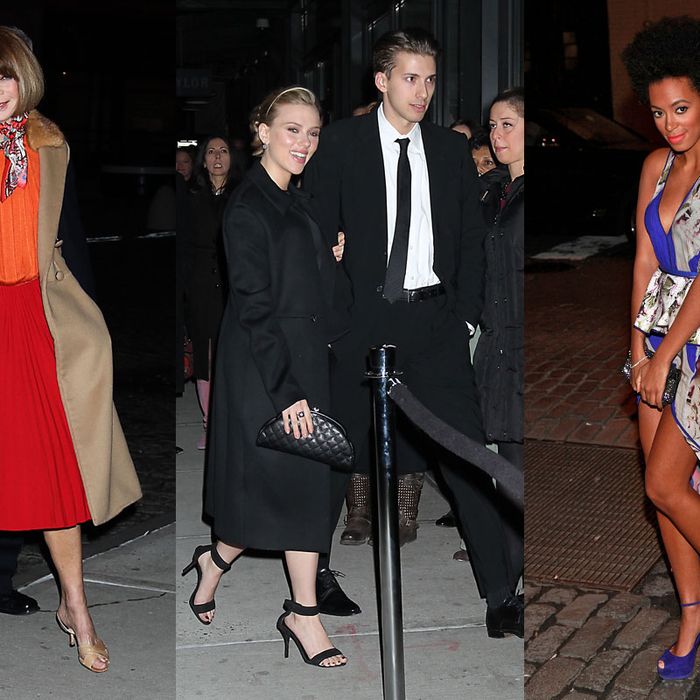 Anna Wintour, Scarlett Johansson, and Solange Knowles.
Photo: Jennifer Mitchell/Splash News (2), Charles Eshelman/Getty Images
Top Obama money-"bundler" Anna Wintour co-hosted a party with Scarlett Johansson at the Theory store last night to benefit Runway to Win, her fund-raising initiative for Obama's reelection campaign. Lots of swish guests showed up, including Karolina Kurkova (fully recovered from her tearful speech at the CFDA's health panel that morning), Karlie Kloss, Tory Burch, and Solange Knowles, who wrestled (successfully, phew!) with a potential mishap involving a very high slit up the front of her dress on her way to the door. Some folks from Obama's camp were also in attendance, including campaign manager Jim Messina, who — unsurprisingly —  denied any interest in clothes. "I have no fashion sense," he assured the Huffington Post. However, Obama's former aide Reggie Love said the president taught him everything he knows about neckwear. "I will tell you, the guy taught me how to tie a very professional knot," he said, pointing to his tie. For clarification: "It's not the knot, it's the dimple."
Meanwhile, Scarlett Johansson scoffed at the RNC's video denouncing Runway to Win as "ritzy": "They are so totally unfashionable!" she joked. But seriously, Rick Santorum? "I mean, sweater vests are, I guess, charming for family photos and dinner with the grandparents … But I think you wear a sweater vest ironically, right? Just go to the Lower East Side!" And finally, she did have some thoughts on politics: "I understand that people are upset, they want change and they want it now. And change takes time. Not only does it take time, but people have to be active, you have to participate."
No word on how much money they raised, but apparently Runway to Win's items will soon be featured on Vogue.com. Too bad they didn't get Madonna to work something into the Super Bowl halftime show while they were at it.
Related:
Anna Wintour in Top Tier of Obama's Fund-raising 'Bundlers'
Anna Wintour, Marc Jacobs, Alexander Wang, and More Pitch in for Obama's Reelection Campaign