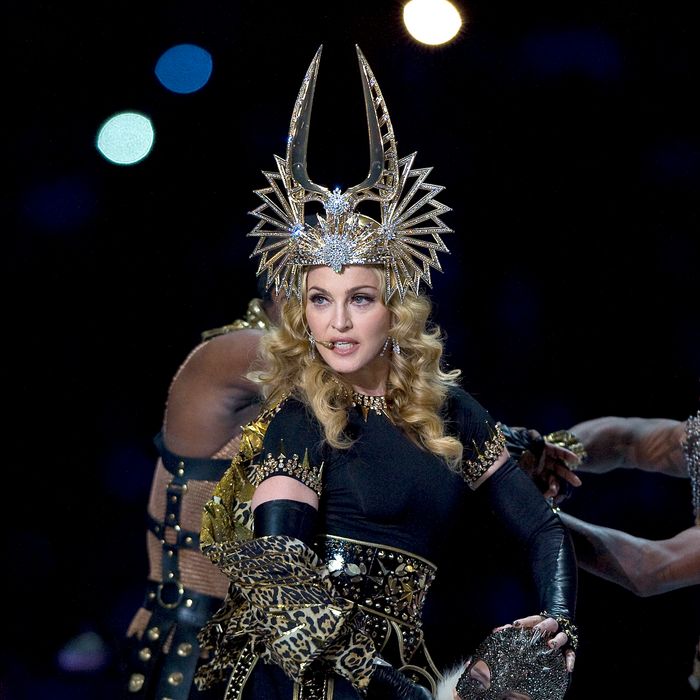 Madonna performs at the 2011 Super Bowl Halftime show.
Photo: Anthony J. Causi / Splash News/? www.splashnews.com
Oh, Madonna, how we've needed you! Thanks to her halftime show performance, y'all probably can't remember why last year's  show was so disappointing. Your brain has probably erased the thoughts of the Black Eyed Peas being terrible with Madonna being amazing. Those twelve minutes were a wild ride of Confessions-era flashbacks, full-body chills, pom poms, melting ligaments, Vogue covers — and energy remained impossibly high, even though Madonna's clothes weren't all-over sparkly for the whole show. In the slideshow, enjoy the fashion highlights from this seminal event, and read Anna Wintour's fabulous reaction to the performance.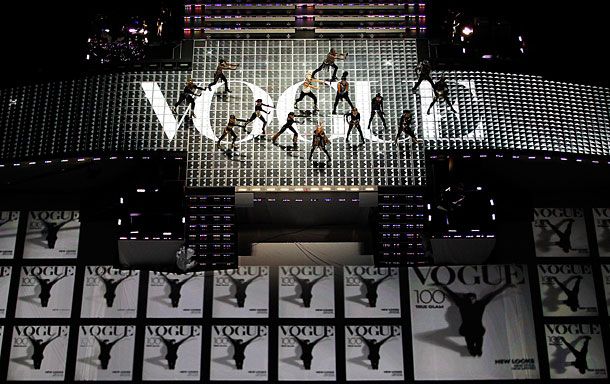 VOGUE!
The best of the staging and visual effects were the tiled, animated Vogue covers, which totally beat the army of painters the Black Eyed Peas hired last year to work the field. If anyone who works at Vogue didn't feel like a badass before watching this, they sure do now. Anna Wintour tells us: "We're thrilled and so very grateful to Madonna to have been part of such a spectacular performance.  We naturally expect a new audience of football fans." Ah!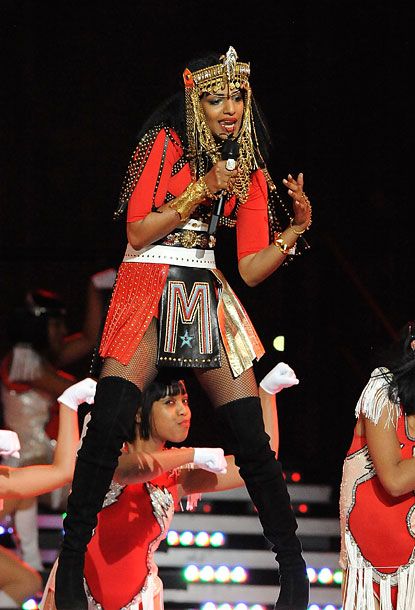 M.I.A.
At first you wonder if the M is for "Madonna," since she was hired to sing her name and all, but no!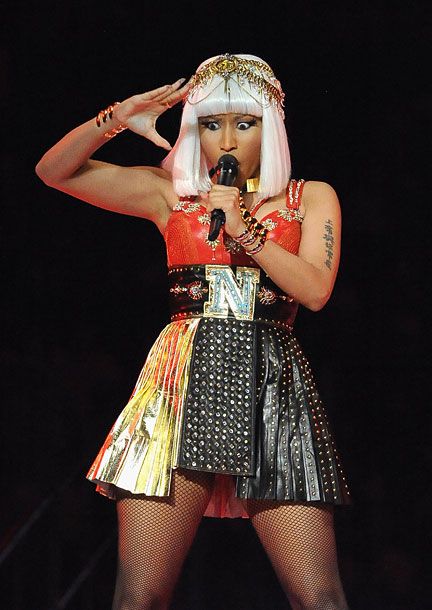 Nicki Minaj
It was clearly for M.I.A., as this N is for Nicki Minaj.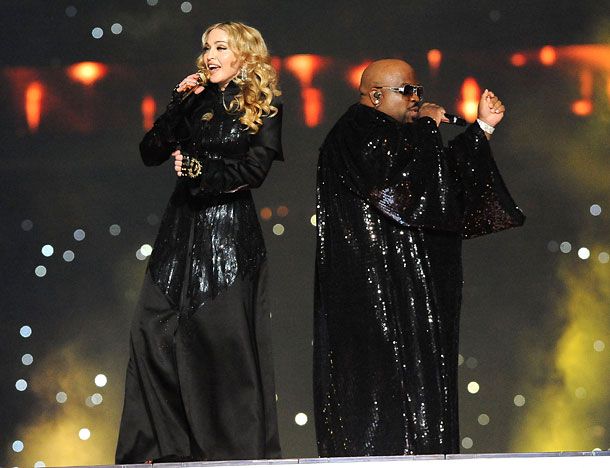 Madonna and Cee Lo 
Most divas go from clothed to nearly naked, but Madonna went from clothed to more clothed. Also, as with all her collaborators, she let Cee Lo wear the louder outfit during their time together, which was sweet of her.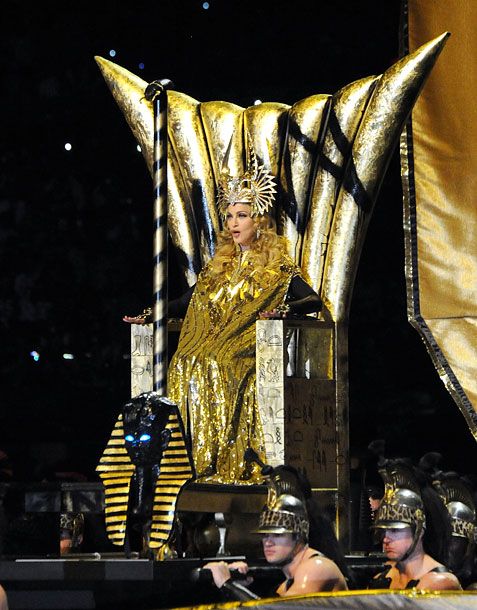 Madonna
Not going to lie, the headdress brought to mind Beyoncé's "Run the World" video costumes, but the one thing you can say about her and Madonna is that they've both earned the right to get carted around on thrones by naked men wearing huge crown things.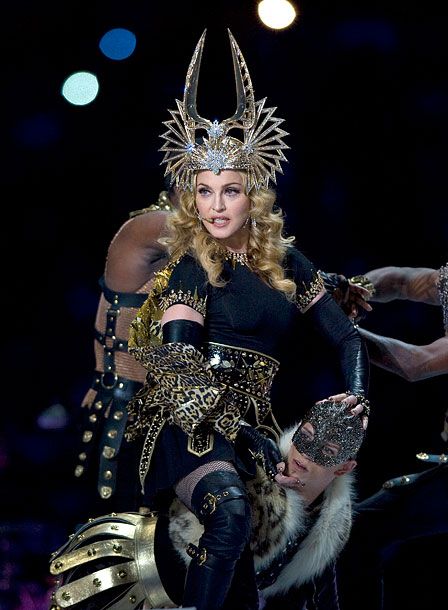 Madonna
Madonna's costumes were subtle for stagewear in the age of Lady Gaga and Nicki Minaj, but she doesn't need to do much more than wear a black dress the whole time because she's Madonna. But the genius of her clothes was the details — the gold trim on the sleeves, the way it wasn't so constricting she couldn't ride the dancer wearing the glitter mask, etc.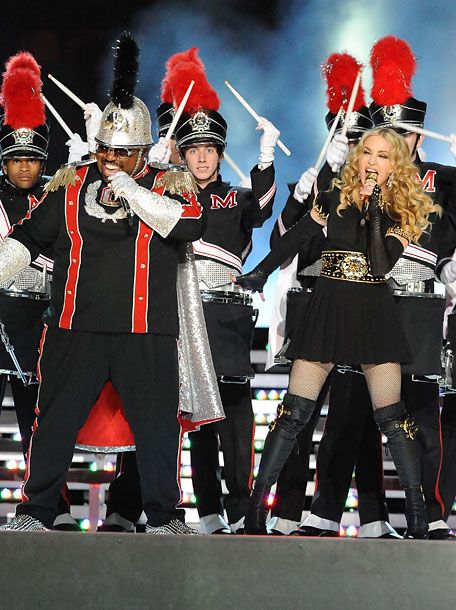 Cee Lo and Madonna
Cee Lo may have had the best costumes of the night: the glitter cape, disco-ball shoes, glitter helmet.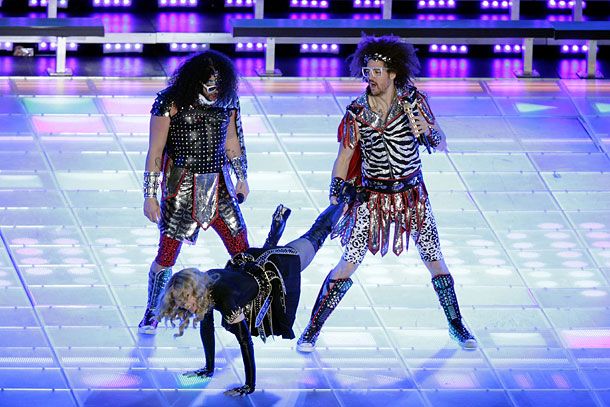 LMFAO and Madonna
We may never know why LMFAO worked so well in this performance, since their music is in that category of songs that lets you know either a) you chose the wrong place to go dancing, or b) you are drunk and it's time to go home. But Madonna totally owned them, using them as props, guest D.J.'s, something to kick, and an extra, hefty dose of animal print. Every diva needs an animal-print segment in a live show.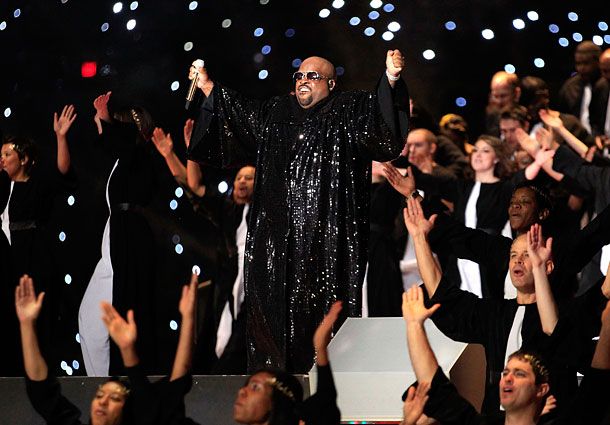 Cee Lo and the Choir
A fabulous judge in a court of penguins. Girls watching the Super Bowl can't really ask for much more.