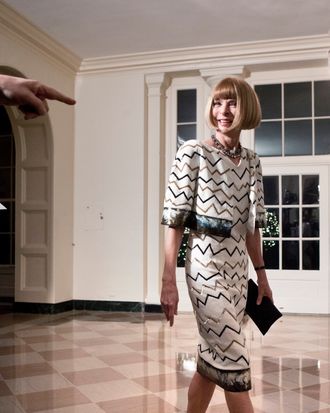 Anna at the White House last year.
Photo: Brendan Smialowski/Getty Images
"I don't think of myself as a powerful person," Anna Wintour told Forbes in August. "You know, what does it mean? It means you get a better seat in a restaurant or tickets to a screening or whatever it may be. But it is a wonderful opportunity to be able to help others, and for that I'm extremely grateful." Another person who's sure to be extremely grateful is President Obama, who listed Wintour on his list of top-tier fund-raising "bundlers," which was released to the public last night. Wintour has already raised over $500,000 for Obama's reelection campaign, placing her in the fine company of 61 other fat cats, including Harvey Weinstein, Jeffrey Katzenberg, and Pfizer vice-president Sally Susman. Wintour's various means of fund-raising have included fancy dinners at her West Village townhouse; she's also heavily involved in Runway to Win, for which she recruited designers like Marc Jacobs, Alexander Wang, and Tina Knowles to design tote bags and other swag. And her efforts are far from over: She's set to co-host another splashy fund-raiser this month with Scarlett Johansson, which will surely bring in a hefty wad of cash.
Related: Anna Wintour, Marc Jacobs, Alexander Wang, and More Pitch in for Obama's Reelection Campaign