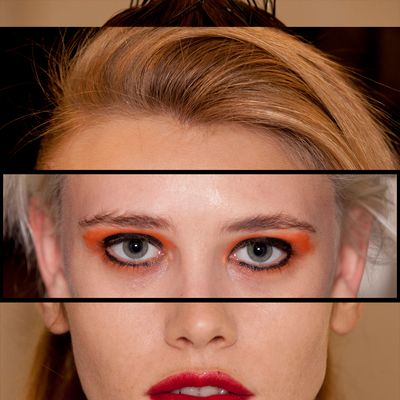 BLAKE RIBBEY
Photo: BLAKE RIBBEY
Photographer Blake Hamilton continues to take backstage beauty portraits for us, this time from Narciso Rodriguez's fall 2012 collection. Shiseido's artistic director, Dick Page, created the show's look, keeping in mind a sort of "one or the other" ethos: "The girls had either a strong eye and a muted lip, or a muted eye and a very strong lip," he said. Hamilton shot models done up in both the former and latter options, and digitally collaged them together to illustrate the show's beauty in full effect. Page explains how to recreate it all — while Deborah Lippmann give the details on the nails — after the jump.
Get the look:
Skin
"We started with moisturized, even-toned skin.  We wanted them to have just a light wash of foundation – very flawless, nothing too heavy. Just put on as much as you need or want to make the skin look good. The look is very natural — no powder, no cheek."
Eyes
"We have two strong eyes. One of them is a chartreuse color, the other is this fiery orange color. The idea was to take a fluffy brush and just spread it over the top of the eye up to the eyebrow. Also, spread it out a little bit at the corner, too. The shape doesn't matter — it's kind of random. Then, take a thick black liner — could be a pencil, but I used liner in a pot — and draw a thick line on top of the brushed colors. Finally, draw a little kind of chicken scratch beneath the lower lashes with the black liner. That's it. No mascara."
Brows
"We didn't touch the brows — we kept them natural."

Lips
"With the girls who had strong eyes, we used a a color called Camel, which is sort of a beige-y, nothing color. It was more to tone down the natural red in the mouth than to add color.
For the girls not getting the eyes, they got really defined lips. We had three new fall lip colors: Blaze, a bright orange ; Drama, a bright red lip; and Savage, which is kind of a reddish-brown-burgundy-tan color."
Nails
"We did a taupe nail in a shade called Fashion. We did one coat of it with a very shiny top coat. It almost looks like patent leather — very, very shiny."