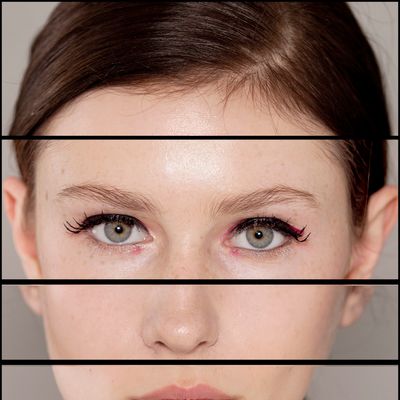 BLAKE RIBBEY
Photo: Blake Hamilton
Photographer Blake Hamilton continues to take backstage beauty portraits for us, and this time he presents Phillip Lim's fall 2012 collection. Lead NARS cosmetics makeup artist, Francelle Daly, explains that the show's beauty look was "really inspired by Phillip's palette, and I wanted to have a boldness, an edginess." She continues, "I wanted to add a lot of impact and drama." Hence why the show's focus skews heavily on the eyes, while the remainder of the face is kept minimal with just a bit of foundation and highlighting on the cheekbones. Daly achieved this look by applying fifteen coats of black mascara and custom-made blunt eyelashes to the lids. NARS cosmetics lead trainer, Jason Hoffman, explains how to get this season's look after the jump.
Get the Look:

Skin
"The skin is clean and glowy, just a little bit of a highlighter on the cheekbones. It depends on the color, but we use something that's very skin-tone, that just has the shimmer, so we went on the upper part of the cheekbones and just sort of blended up into the temple, then down the bridge of the nose using your fingers."

Eyes
"For this look it's all about eyes, so definitely start with the eyes, because that's where you spend most of your time. Start by taking a liquid eyeliner — something that's smudge-proof; we're using our new Stilo pen — and draw almost a cat eye, but not extending past the eyebrows; and then give it a little bit of time to dry. We used a red lipliner, Jungle Red, and we sketched a line above the liquid line. So you draw that thick cat eye and then sketch above it with the red so it kind of peeks out above the crease a little bit, but it doesn't go to the brow bone. Then we applied a set of custom-made, blunt false eyelashes and about fifteen coats of black mascara, so it was very chunky-chunky big lashes, very clumpy. A more realistic way to wear this would be to do maybe three or four coats of mascara, to not have it be quite so dramatic. And then, we went on the inside of the water line with a black liner, Black Moon, and then we painted the lower lashes with white mascara. We're actually using a white crème eyeliner – we just kind of mashed it up and painted it on with a brush.
Another thing that's more runway: We did red tears that are sort of coming out from the tear ducts. That could be something, if you're adventurous, you could try it. Take a red lip liner and literally sketch kind of an abstract tear — it wasn't in the shape of a real tear."
Brows
"Eyebrows were left natural but brushed up to have sort of an unruly, superhero type of effect."

Lips
"Just apply a tiny pat of clear lip gloss; we used our Triple X lip gloss. No color on the lips at all."