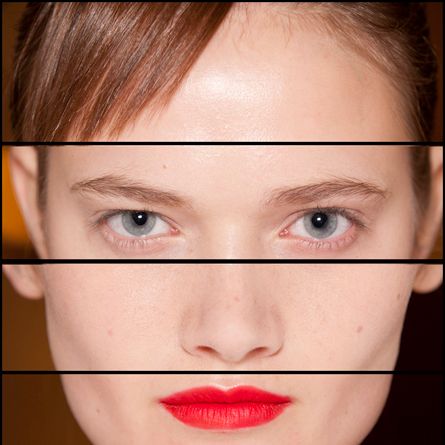 Photographed by Blake Hamilton.
Photo: Blake Hamilton
Photographer Blake Hamilton continues to take backstage beauty portraits for us, this time straight from Thakoon's fall 2012 collection.  The look centered around showstopping red lips, with otherwise very little makeup. "The less you do on the rest of face, the more modern it looks," says lead makeup artist Diane Kendal for NARS cosmetics. "The minute you start adding eyeliner or mascara, it starts to look more normal." To get the striking matte effect, the team crushed blush with a mascara wand and then applied the powder to the mouth.  "Matte is a modern way to wear red lipstick," Kendal asserts. To learn more about how to get the full look, read how Arthur Boston, national stylist for NARS cosmetics, breaks it down.
GET THE LOOK
Skin
"First, we started by rubbing our Softening Milk Cleanser all over the skin with a cotton pad. It contains jojoba oil, so it really creates a fresh, clean palette. Next, we applied our Hydrating Freshening lotion with a cotton pad, which is a great toner without being too abrasive. It helps remove dead skin in stubborn places, like the inner nose and the center of the forehead. Then, before any makeup application, we applied our Hydrating Moisture cream because it moisturizes and gives a slick base to build on.
To apply the foundation, we first gently rubbed it in the palm of our hands to warm it up, which makes it go on much silkier — think about it, it's like applying warm butter to toast. Then we put it on using our fingers — always use your fingers when applying it! Next, we used concealer based on the model's skin color to cover up specific spots. To top things off, we used our new brightening powder, Undress Me Multiple, brushing the product with our fingers from the cheeks all the way into the temples."
Eyes
"Nothing on the eyes. Nothing on the lashes – just curl them."
Brows
"The eyebrows were simply brushed and filled in where they needed to be."
Lips
"We first applied our Heat Wave lipstick to the model's lips, and then crushed Exhibit A blush with a mascara wand as a loose pigment. Then we carefully set the crushed pigment onto the models' lips to create a really bright, luminous quality."