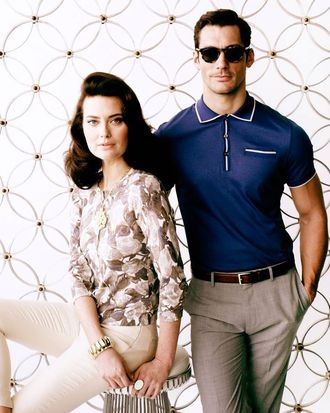 A look from Banana Republic's new Mad Men collection.
Here's something odd: At this very moment, Banana Republic is showing their new Mad Men collection on Virgin America's flight 407 from JFK to LAX. As we can see from Virgin's Twitter feed, models are currently roaming the aisles of the plane wearing looks from the collection and presumably trying not to stumble or bump their heads on the overhead storage bins. Unlike Chanel's plane-themed couture show, this jet mostly contains normal passengers, who are likely (a) annoyed that the show is slowing down the snack trolley, (b) wondering what the hell is going on, or (c) squealing about how much they love the clothes and can't wait to rush off to the nearest Banana Republic tomorrow, when the clothes go on sale. Meanwhile, five fashion bloggers —  SheFinds, Keiko Lynn, My Style Pill, Saucy Glossie, and The Gloss — got complimentary seats on the flight and are busily tweeting about it (with lots of @bananarepublic's and @virginamerica's thrown in, of course).
All in all, this is a weird mix of branding, especially since the whole plane thing has been done already — twice! — minus the downfalls of air travel like swollen feet, cramped limbs, and screaming babies. Moreover, that's a really long flight just to show four looks. Hopefully Virgin's normal in-flight entertainment options are still available. And drinks. Lots of drinks.