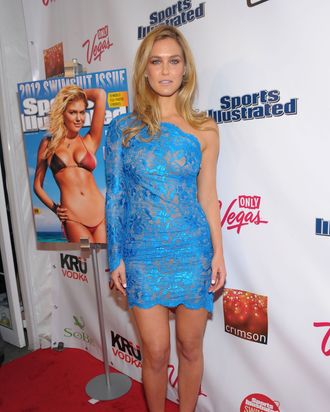 Sports Illustrated Swimsuit model Bar Refaeli attends SI Swimsuit Launch Party Hosted by Crimson at Crimson on February 14, 2012 in New York City.
Photo: Michael Loccisano/Getty Images
Most of the spreads in the Sports Illustrated swimsuit issue are shot in exotic locations, like private islands only accessible via helicopter or at Victoria Falls in Africa, so we were surprised to hear that Bar Refaeli did hers in a studio this year.
"I was shot with Rafael Nadal, Chris Paul, and Michael Phelps on three different occasions, because their schedules are so hectic that I had to travel specially every time, like twelve hours, just for a one-day shoot," Rafaeli told us at the launch party yesterday. "It was fun because we were just being silly, and it wasn't all about posing; it was just about the energy and the vibe around it, and we had a blast with the three of them."
So, wearing a bathing suit while posing with three iconic — and shirtless — athletes, did Refaeli feel what the rest of us do when we're around her: Damn, I am so fat and flabby?
"Are you kidding? Of course! I'm talking about Rafael Nadal, Michael Phelps, and Chris Paul!" she said, laughing. "It's not like I'm talking about, some, I don't know, college team."
Plus, she was a little awestruck. "I'm, like, obsessed with sports, and I follow sports, so for me, every time I meet an athlete I'm really, really, um, like a 6-year-old girl."