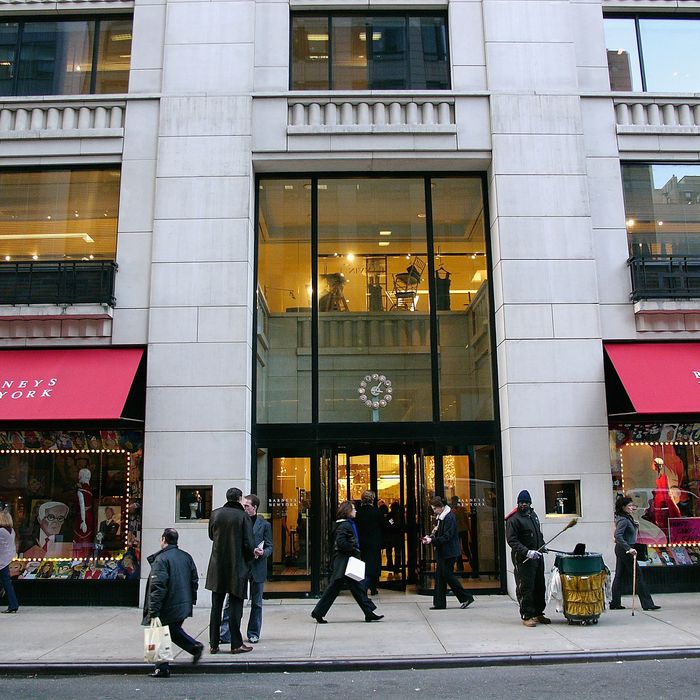 Barneys.
Photo: Spencer Platt/Getty Images
Last night, Barneys confirmed rumors about their ongoing debt struggles, admitting that they'd hired law firm Kirkland & Ellis to help renegotiate a $200 million credit loan due in September. Meanwhile, credit watchdogs are calling attention to the company's rocky credit ratings: S&P rated one of their other loans — a $280 million loan due in September 2014 — a "CCC-minus," which means it's vulnerable to nonpayment.
So how did Barneys get into this mess? The retailer had been mired in debt ever since their 2007 takeover by Dubai investment group Istithmar, which bought Barneys from The Jones Group for $942 million. Istithmar still owes $660 million in outstanding loans stemming from the deal, primarily to Citigroup and Wells Fargo, all of which are due in various chunks — $200 million, $280 million, and $180 million respectively — over the next four years. 
But despite rumors about possible bankruptcy and/or restructuring, a Barneys spokesperson insists that nothing will change at the stores. Indeed, retail-wise, they're doing quite well. Following a major management turnover (some might call it "bloodbath") in late 2010, the store posted strong numbers in 2011, boasting a double digit sales growth over 2010, which was also a profitable year. (Barneys wouldn't comment, however, on sales from Gaga's Workshop, many items from which are now on deep discount on the Barneys website.) Says Barneys' spokesperson:
Barneys New York is actively engaged in discussions with the company's small group of lenders to improve its balance sheet and further position Barneys New York for sustainable, long-term growth and success. We are focused on resolving this matter as expeditiously as possible, and it will remain business as usual at Barneys New York.
Related: Barneys' Fall Line